Tis' the SEA-SUN for Darien Parks and Recreation's Third Annual Weed Beach Fest, presented by Ring's End this Saturday!
[CAUTION: This is Park & Rec's announcement and we give you fair warning that there's PUNishment ahead. A non-pun announcement from Darien's Masonic Lodge follows.]
From 12 noon to 7 p.m., Saturday, June 1, Weed Beach will be deBAITably the HOTTEST place in town with live music, hot food vendors and games & activities for the whole the family!
The Darien Sport Shop Stage will be located on the beach hosting local bands Gunsmoke and Chasing Day with a FINale from the Bruce Springsteen Cover Band, Alex Shillo!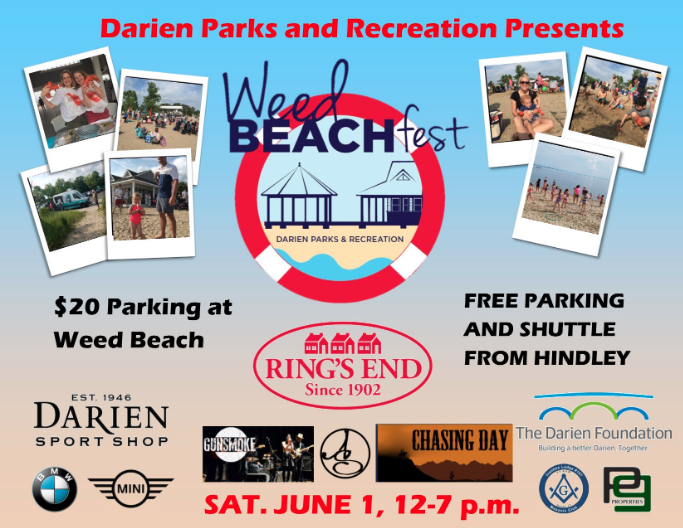 The popular Kids Cove returns from 12-5 p.m. and due to The Darien Foundation's support, FREE FOR 2019!!
The Kids Cove hosts an arRAY of games and activities as well as includes a free t-shirt, wristband, tye-dye station, face painting and more while supplies last!
With the PORPOISE of honoring the Playground By the Sound's 10th Birthday, The Darien Foundation and Sprout Chef's, Chef Lisa, will host birthday cake decorating from 12 noon to 4 p.m. with a 4 p.m. cake presentation/song by the music stage!
CARMAGGEDON WARNING: With the first I-95 closure at Exit 9 this weekend (the second one is next weekend), allow extra time for driving on main roads in Darien, especially near highway exits. There could also be some frustrated, angry drivers on the road.
The weather is looking great for Saturday, so it's the time to purchase your CLAM BAKE tickets! Don't get TIDE down with your busy schedule as tickets must be purchased ahead of time!! Click here to purchase your tickets before others BEACH ya to it!
This event is FREE to the public so anyone can enjoy! VIP Parking is $20 for at Weed Beach or FREE at Hindley School with a shuttle running in WAVES throughout the event.
A variety of local craft and business vendors will be present including the Masonic Club of Darien offering FREE CTCHIP packages for parents with little ones! Check out the Weed Beach Fest website for more PACIFICS and to see pictures from 2018!
WHALE that's about it, we SHORE hope to SEA you on Saturday at the SALTIEST sweet event in Darien!
____________-
Masonic Club Giving Away Child Identification Kits (CTCHIP)
Members from the Masonic Club of Darien will be giving free Child Identification Kits (CTCHIP) to interested parents for children (infants to 19 years of age) from 12 noon until 5 p.m.
— an announcement from the Masonic Club of Darien
CTCHIP is the most comprehensive child recovery and identification program in the nation. The packages generated at CTCHIP events, (given to parents on a USB Flash Drive), contain vital components — photos, video, finger prints, bite impressions and a cheek swab to aid law enforcement agencies in recovery and identification of missing children.
"We are thrilled to offer this amazing program to our community and support Darien Parks & Rec," said Mark Lindsay, District 1 Committee Chairman for CTCHIP and a member of the Darien club. "Last year nearly 425,000 children were reported missing in the US and if we can save just one child, the whole program is worth it."
For more information on hosting your own CTCHIP event email Charity@DarienMasons.com.