Join The Maritime Aquarium on Saturday, June 10, to learn about conservation of the world's oceans, meet animals, and more.
Events related to World Oceans Day take place between 11 a.m. and 4 p.m. and are free with admission.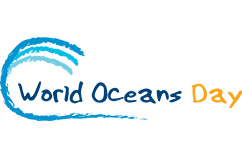 A healthy world ocean is critical to our survival. Join us to learn how to help protect and conserve the world's oceans and meet some of the amazing animals that call it home!
___________
— an announcement from the Maritime Aquarium
___________
Animal Encounter Schedule:
11 a.m. — Diamondback Terrapin
12 p.m. — Chain Catshark
2 p.m. — American Lobster
3 p.m. — Clearnose Skate