Darien High School teacher Matt Pavia will be the Memorial Day 2019 speaker on Monday, May 27 in the ceremony after the parade.
Here's the announcement from the Darien Monuments and Ceremonies Commission:
Darien is fortunate to have Matt Pavia, well-known educator and author as the Speaker during the ceremony to be held at Spring Grove Veterans Cemetery following the May 27th, 2019 Darien Memorial Day Parade.
Matt is a native of Stamford and has taught American Studies and English at Darien High School since 2003. He holds degrees in English Literature, Education and Educational Leadership, and is currently working on a Master's in American Studies. Matt and his father, Tony Pavia, are co-authors of "An American Town and the Vietnam War," published in 2018 by McFarland & Co.
Your Memorial Day Handbook 2019

— You can watch the parade and ceremony ONLINE, starting at 10 a.m., here.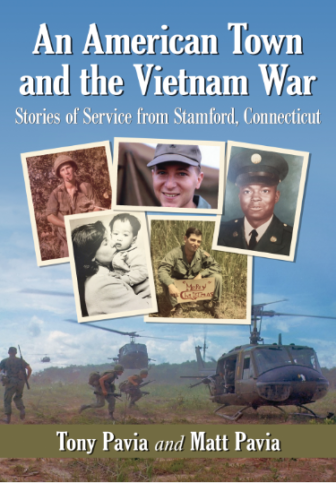 "An American Town and the Vietnam War," documents the story of the Vietnam War from the perspective of one representative American city, Stamford.
Hundreds of young Americans from Stamford fought in the Vietnam War. These men and woman came from all areas of the city; they were white and black, poor and wealthy. Some had not finished high school while others had graduate degrees. They served as grunts and helicopter pilots, battlefield surgeons and nurses, combat engineers and mine sweepers.
Greeted with indifference and sometimes hostility, they returned home to a nation fraught with political and racial tensions. Stamford's veterans learned to suppress their memories. Now in their late 60's and early 70's, these veterans have begun to tell their story.
Matt's book also chronicles the short but extraordinary lives of twenty-nine Stamford men who did not make it home alive.