Expanding your kids' horizons with a day trip (or shorter trip) to a museum or other site in Connecticut will be slightly cheaper with reduced or free admission or other offers on Saturday, June 10, Connecticut Open House Day.
Connecticut's not that big a state, and you can see anything with a day trip. Combine a few places to go and it could be a trip your kids will remember. It may even spark an interest in some educational topic.
This article is only meant to pique your interest. You can find out about more places to go in Connecticut (especially on June 10) at the Visit CT state tourism website.
Connecticut Open House Day is about more than tourist sites for kids — if you have an interest in artist studios, art museums or historical sites or museums about transportation or technology, there's a museum with a discount of some sort waiting for you on June 10. See the website to find one of them
NOT A LOT OF TIME IN THE CAR
These sites are in Fairfield County or just beyond
Bridgeport
Fairfield
From the website: Enjoy a Community Day of free activities and the opening of the new exhibitions on the Museum Commons.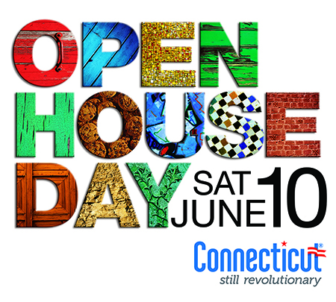 — American Battlefield Protection Program / The Pequot War: 10am – 12:30pm. Learn more about the American Battlefield Protection Project to identify and preserve Native American battlefields, with David Naumec and Ashley Bissonette with the Mashantucket Pequot Museum. Following the presentation, learn about archaeology and how to dig for artifacts in shovel test pits near the museum building. All ages are encouraged to assist, minimum age 5 years old!
— Documentary Screenings: CT in the 1960s, 1pm and Ocean Frontiers III, 2pm.
Sun Tavern Tours: 11am and 1pm with Bill Lee, former Fairfield Town Historian
— Victorian Cottage & Barn: Hands-On Activities 11am – 2pm
— Victorian Cottage: Women in History Presentation & Activities with National Honor Society students from Fairfield Warde High School
From the website: Step inside the Ogden House and experience how the Ogden Family lived in 18th century Fairfield. Museum Docents will lead guided tours giving visitors a behind-the-scenes look inside this New England saltbox house, listed on the National Register of Historic Places.
Outside in the Colonial Kitchen Garden, learn about colonial era plants, the importance of beekeeping and take part in garden activities led by the Fairfield Garden Club. The Ogden House honey bee project includes apiaries located in Oak Lawn Cemetery that produce honey from the plants and flowers surrounding the Ogden House.
Nearby learn about the experiences of the militia during the American Revolution with costumed historical interpreters and a soldier's encampment. See what a soldier had to carry, what a wool uniform might feel like, and practice a militia drill formation. Hear engaging stories of how soldiers faced hardships and survived during this important time in American history.
Greenwich
Orange
MORE TIME IN THE CAR
Cheshire
OK, A LOT MORE TIME IN THE CAR
(But this is Connecticut, so it's still only a day trip.)
Chester
East Windsor
Haddam
Hamden
Mystic
Rocky Hill
Thomaston