Save the date for the popular one-day-only statewide event in which destinations offer free or discounted admission, special activities or giveaways to Connecticut residents.
Connecticut Open House Day on Saturday, June 10, sponsored by the Connecticut Office of Tourism, is designed to showcase Connecticut's diverse offering of museums, theaters, historical sites and other attractions across the state.
______________
— an announcement from the Connecticut Office of Tourism
______________
The annual celebration, now in its 13th year, encourages residents to discover the wealth of treasures in their own backyard and rediscover old favorites.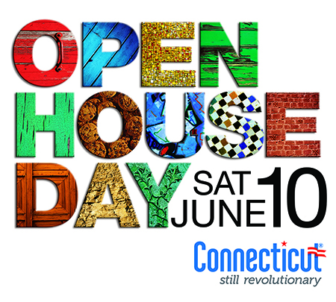 From historic to contemporary, cultural to nature-oriented, Connecticut offers a variety of unique experiences within a short drive.
No institutions in Darien, Stamford, Norwalk, New Canaan or Wilton are participating, but you don't have to go much further to find special offers, reduced rates or free admission to places in Greenwich, Ridgefield, Westport, Fairfield and Bridgeport. Then there are attractions elsewhere around the state that you may have been thinking of visiting anyway.
__________
See also:
__________
Here's a list of all the nearby participating institutions and some highlights of others around the state (for the full list, go here):
Editor's note: We found a couple of mistakes in this website's list, with the Yale Center for British Art listed in New London (where it isn't) as well as New Haven (where it is); and the "Noah Webster House and West Hartford Historical Society" listed in West Haven (where it isn't) and not West Hartford (where it is). So we recommend you click through to websites and confirm information there.
Bridgeport
Barnum Museum
Free admission from 11 a.m. until 3 p.m., along with free Barnum bookmarks, Barnum-blend coffee tasting, guided tours and post cards.
Bijou Theatre 
Free dance performance by the New England Ballet Company from noon until 2 p.m.
Connecticut's Beardsley Zoo
Open from 9 a.m. until 4 p.m., offering half price off admission for the first 100 guests.
New England Ballet Company
Free tours of the studio at 130 Elm Street, from 11 a.m. until 3 p.m. At 1 p.m., enjoy an open performance at the historic Bijou Theater, located at 275 Fairfield Avenue (across the street).
Cos Cob (Greenwich)
Greenwich Historical Society
Free admission from noon until 4 p.m. Program features "The Doubtful Sprout," a performance by Liz Joyce and a Couple of Puppets begins at 1 p.m. Make your own puppet throughout the day, visit the "Jim and Jane Henson: Creative Work, Creative Play" exhibit; take tours of the historic site at 1 p.m., 2 p.m. and 3 p.m.
Fairfield
Haddam
Connecticut River Expeditions – RiverQuest
RiverQuest will be offering a special reduced admission of $5 per person (all ages) for a 45-minute cruise on the Connecticut River. First come, first serve, no reservations; cash only. First cruise departs at 9 a.m., last departure at 12:30 p.m
Greenwich (see Cos Cob, above)
Hartford
Mystic
Mystic Aquarium
Open from 9 a.m. until 5:50 p.m. Offering $6 off general admission, good up to four guests when you mention Connecticut Open House Day at the gate.
New Britain
New Haven
Yale Center for British Art
Open 10 a.m. until 5 p.m., offering free Introductory Tours (11 a.m., 1 p.m., and 3 p.m.). These docent-led tours are of the Center's collections, including the Founder's Room.
Norwalk
Ridgefield
Rocky Hill
Westport
Westport Historical Society
Open from 10 a.m. until 4 p.m., offering 10% discount on items in the gift shop and on view is "The High School that Rocks."
Residents can also join the social media community on Instagram, Facebook and Twitter for regular updates.
Editor's note: This article originally was published May 16. The time stamp has been changed to move the link back to the Darienite.com home page.