These programs are airing on Darien TV79 Cablevision this week (links go to meeting agendas or Vimeo video-on-demand recordings online):   
___________
— an announcement from Darien TV79
___________
Airing on TV79 Cablevision This Week
Sewer Commission  — April 4 — Runs   56 min —  NO AGENDA — VIMEO — Airs:  

 

9:14 a.m. and p.m.

Darien League of Women Voters and town officials  — April 5 — Runs 

 

1:37

 — Airs:  

 

1:28

, 7:37  a.m. and p.m.
Available only on Vimeo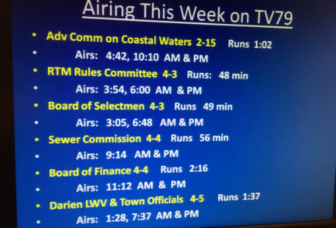 _________
To watch any TV79 program "On Demand" on our Vimeo channel, CLICK HERE
To watch our live programming "stream" as seen on air, CLICK HERE
_________
Planned Coverage for the Week Ahead
Tuesday            
Wednesday     
8:30 a.m. — Beautification Commission — TAPED              
For updates, follow us on Twitter: @DarienTV79
To receive TV79's weekly program schedule, e-mail us at channel79@darienct.gov  or follow us on Twitter:  @DarienTV79. Copies of TV79 coverage are available for $25 per DVD.