You can register now to do something for yourself and your community by joining the Darien Road Race, scheduled for Sunday, Sept. 15, 2019 at Pear Tree Point Beach. It includes a 1.5-mile Fun Run and 5-mile race.
— an announcement from the Community Fund of Darien
This year's race will begin at 9 a.m. for the 1.5-mile Fun Run and 9:30 am for the 5-mile. The race will feature "The Finish Line" tent with music, family friendly activities, sponsor booths, silent auction and an awards ceremony.
The 40th annual Darien Road Race brings together families, athletes and adults, young and old, to celebrate the spirit of our town and support the work of the Community Fund of Darien.
New this year is the option to create a team or be an individual fundraiser for the Community Fund of Darien (TCF). Teams can be made up of family members, office/work associates, friends, high school teams or clubs, sports fans… the possibilities are endless!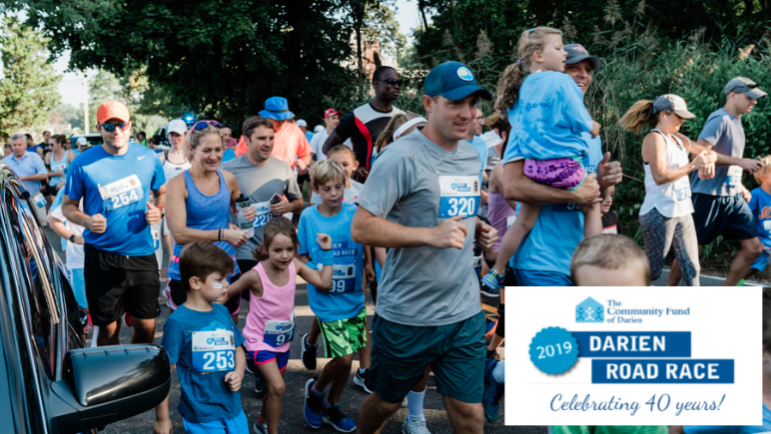 Ask friends or family to support you or your team, whether they live near or far. The more dollars raised, the more you help your neighbors in need.
The individual or team captain who brings in the most financial support will win two round-trip airline tickets courtesy of JetBlue.
The large collection of silent auction items will be available for viewing prior to the race via AccelEvents, and will close at 6 p.m. on Sunday evening to give runners, spectators, and for those not in attendance an opportunity to participate.
The registration fee is $45 ($55 on race day) and $20 for children 12 and under. Participants can register and learn more about the race online. Be sure to check out TCF's Facebook and Instagram pages for regular updates.
The first 500 registered runners will receive an official 2019 Darien Road Race t-shirt on race day.
All funds raised at the Darien Road Race will benefit the Community Fund of Darien's community initiatives and, through its grant program, local nonprofits serving the critical needs of our neighbors in Stamford, Norwalk and Darien.
About the Community Fund of Darien
For 68 years, the Community Fund of Darien has addressed the needs of the most vulnerable in our community by investing in critical and effective programs in Darien, Stamford and Norwalk with the help of volunteer grant panelists who assess social service organizations.
Funding goals focus on basic needs (food, housing, and emergency financial assistance), youth success, and self-sufficiency (economic security, job training, and access to mental health and substance abuse treatment).
In addition to grants, the Community Fund brings together local community initiatives such as Thriving Youth Task Force, which promotes positive youth development, and the Human Service Planning Council, which focuses on addressing the social service needs of Darien residents.
The Community Fund of Darien also created the 06820/Our Darien campaign which addresses teen binge drinking. TCF supports youth leadership by organizing high school and middle school students to volunteer in the community.
The Community Fund of Darien's mission is made possible with the help of over 800 individual and local business donors and 100 volunteers who contribute to make a difference in our community.