Barrett Bookstore, after more than 20 years in Noroton Heights, has relocated. "With a truly heroic effort by our team, we opened our doors at 6 Corbin Drive in Darien in a week!" the store said in its newsletter.
"To celebrate, we are planning our official grand opening." Pop in anytime on Saturday, April 27 to enter their raffle, featuring prizes from their new downtown Darien neighboring businesses.
Here's the rest of the announcement, adapted from the Barrett Bookstore newsletter:
We hope you will join us at the store for a fun day with your family. Here are some of the activities planned for the day:
—11 a.m. to 1 p.m.: Complimentary Neat coffee & doughnuts
—2 p.m.: Storytime with Representative Terrie Wood
—5 p.m.: Champagne Toast with Erin Somers, author of Stay Up with Hugo Best. (More on this below.)
Special events, a raffle with some wonderful prizes, refreshments, and more.
Change is bittersweet. We will take our memories with us, but we will miss our former neighbors. And yet, we are heartened that after only a few days we have seen some of our favorite "old" customers and also many new visitors checking out our store.
We have been welcomed with generosity and enthusiasm by our new neighbors and are excited to be part of this vibrant community.
More About That 5 PM Champagne Toast with Erin Somers
Erin Somers is the author of Stay Up with Hugo Best, an incredibly timely, terrifically witty and moving debut about a young writer's assistant on a late night comedy show and what transpires when she accepts an invitation from its enigmatic host to spend a long weekend at his mansion in Connecticut.
"A zippy debut … magnificent … a devilishly fun ride." — Vogue
RSVP to 203-655-2712 or email here.
CT Independent Bookstore Day — Passport Event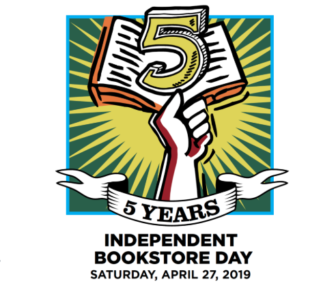 That Barrett's grand reopening coincides with Independent Bookstore Day is serendipitous.
Barrett Bookstore is joining 17 Connecticut bookstores to celebrate! For many of you who have trouble driving by a bookstore, here is a great opportunity to join the Independent Bookstore Road Rally. But you will need a passport!
Saturday and Sunday, April 27 and 28, visit all 17 participating bookstores across Connecticut over the weekend to win a Passport Prize.
Click HERE for details.
Special hours on Sunday, April 28th, 12 noon to 4 p.m.
Some Upcoming Events
Scott Pelley at the Darien Community Association in their Darien Neighbors, Global Players Series
Thursday, May 2 at 7 p.m.
For tickets click HERE
Chris Crowley, author of the Younger Next Year series, at Darien Library
Tuesday, May 7 at 7 p.m.
For more information click HERE
Wendy Walker, author of The Night Before, and Liv Constantine, author of The Last Time I Saw You at Barrett Bookstore for a Thriller Night!
Tuesday, May 14 at 7 p.m.
RSVP for this free event HERE or call 203-655-2712
Ali Noorani, executive director of the National Immigration Forum and author of There Goes the Neighborhood: How Communities Overcome Prejudice and Meet the Challenge of American Immigration
Building One Community – 7th Annual Spring Breakfast
Thursday, May 30 at 7:30 a.m.
For tickets click HERE
LADIES OF SUMMER — Elin Hilderbrand, Mary Kay Andrews and Jamie Brenner will be joining us for this year's Ladies of Summer evening event. Gather your girlfriends and join us at Wee Burn Country Club.
Thursday, June 20 at 6 p.m.
Mark your calendars! Ticket information coming soon.
THANK YOU TO OUR GENEROUS
RAFFLE SPONSORS