Darien Community Association's 2019 Academic Lecture Series on Global Issues, "Turkey at a Crossroads", begins Thursday, Jan. 3 and runs each of five weeks through the end of the month.
—This article combines announcements from the Darien Community Association with information on the DCA website.
First Lecture, Jan 3: 'Turkey and the Neighborhood'
The first lecture begins at 10 a.m., Thursday, Jan. 3 with a timely talk by Steven Cook. Dr. Cook, an expert on Arab and Turkish politics and U.S. and Middle Eastern policy, is a senior fellow for Middle Eastern and African Studies at the Council of Foreign Affairs and will discuss "Turkey and the Neighborhood."
Dr. Cook is an author, a columnist for Foreign Affairs magazine, published widely in journals, opinion magazines and newspapers, and is a commentator on radio and television.
His books include False Dawn: Protest, Demonstration and Violence in the New Middle East; The Struggle for Egypt: From Nasser to Tahrir Square (winner of the Washington Institute Near East Policy Gold Medal in 2012) and Ruling But Not Governing: the Military and Political Development in Egypt, Algeria, and Turkey.
He also writes a blog, "From the Potomac to the Euphrates," about Middle Eastern politics and history on the Council on Foreign Relations website.
Previously, Dr. Cook was a research fellow at the Brookings Institute (2001 to 2002) and the Washington Institute for Near East Policy (1995 to 1996).
He earned his bachelor's degree in international studies from Vassar College, his master's degree in international studies from John Hopkins and another master's and PhD degree from the University of Pennsylvania in political science. He speaks Arabic, Turkish and reads French.
Second Lecture, Jan 10: 'National Identity'
Turkish Identity will be the topic of the second talk in the DCA's Winter Global Issues Series "Turkey at a Crossroads" at the Darien Community Association on Thursday, Jan. 10 at 10 a.m.
Dr. Lisel Hintz, Assistant Professor at Johns Hopkins University School of Advanced International Studies, specializes in the people of Turkey — society, politics, and nationalism.
Historically a bridge between Eastern and Western cultures, Turkey is again changing under the strong control of President Recep Erdogan. Dr. Hintz's talk is titled: "National Identity Contestation — from Ataturk's Republic to Erdogan's New Turkey."
She will detail her own "inside-out" approach to explaining Turkey's complex identity politics and its effect on the world.
Dr. Hintz has taught at Barnard College, Cornell University and the University of Kent, Brussels.
Her Ph.D. is from George Washington University, where she was also a researcher at Bilkent University in Ankara and her B.A. is from Northwestern University in German Language. She is fluent in Turkish and speaks French, Spanish and German.
The professor's latest book from Oxford University Press teases out the complex link between identity politics and foreign policy, using an in-depth case study of Turkey.
A featured speaker on many international panels, Dr. Hintz has also published many articles, including "Why Recep Erdogan Is Calling Turkish Students Terrorists" and "How A Hashtag and Memes Are Uniting Turkey's Opposition", both in the Washington Post 2018.
She is currently working on a book titled Bread, Circus and Subversion: Reading Politics through Pop Culture in Turkey.
Jan 17: 'The Kurds of Turkey, Syria and Iraq'
The third-morning lecture of the series will be on Thursday, Jan. 17 with Amy Austin Holmes, of Harvard University and the Wilson Center, presenting "The Kurds of Turkey, Syria and Iraq."
Dr. Amy Austin Holmes is a Visiting Scholar at the Weatherhead Center for International Affairs at Harvard University, and a fellow at the Wilson Center, while on leave from the American University in Cairo.
She is a former Fulbright scholar, and finished her PhD at Johns Hopkins University. Her book Social Unrest and American Military Bases in Turkey and Germany since 1945 was published by Cambridge University Press.
Having spent a decade living in the Middle East through the period known as the Arab Spring, she has published numerous articles on Egypt, Turkey, Bahrain, and the Kurdish regions of Iraq and Syria.
She has testified in the House of Lords of the British parliament on the situation in Bahrain. Her articles have appeared in the Washington Post, South Atlantic Quarterly, Journal of Arabian Studies, Social Movement Studies, and the Carnegie Endowment for International Peace, to name a few.
She has given TV and radio interviews with NPR, BBC, Al Jazeera, and other outlets. Dr. Holmes plans to discuss the connections between the Kurdish minorities in these three countries.
Jan 23: 'Divergent Interest: The Erosion of the U.S.-Turkish Alliance'
The following week will not have a Thursday morning presentation. Instead, the popular evening lecture will be held on Wednesday, Jan. 23 at 8 p.m. with a wine and cheese reception at 7:30 p.m.
Dr. Aaron Stein, of the Atlantic Council, will present "Divergent Interests: The Erosion of the U.S.-Turkish Alliance."
Currently a resident senior fellow at the Atlantic Council's Rafik Hariri Center for the Middle East, Dr. Aaron Stein has researched, lectured, and written extensively about U.S. – Turkey relations,  Turkish foreign policy, the Syrian conflict, and the Iranian nuclear program, among other Middle East issues.
His articles and Twitter feed appear regularly in the Atlantic Council's Mesa Source Newsletter.  Dr. Stein writes as well for Al Jazeera, Foreign Affairs, The Atlantic, and Foreign Policy, and in 2015 published a book, Turkey's New Foreign Policy: Davutoglu, the AKP, and the Pursuit of Regional Order.
Prior to his work at the Atlantic Council, Dr. Stein was a doctoral fellow at the Geneva Center for Security Policy, an associate fellow for the Royal United Services Institute (RUSI), and a researcher with the Center for Economics and Foreign Policy Studies (EDAM).  In addition, he has worked as a consultant for the International Crisis Group in Istanbul.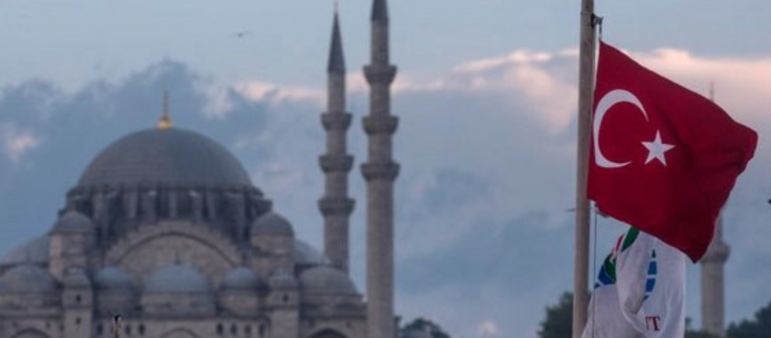 Dr. Stein's academic background also reflects a diversity of experience. He graduated from the University of San Francisco with a bachelor's degree in politics and from the Monterey Institute of International Studies with a master's degree in international policy studies.
He earned his PhD in Middle East and Mediterranean studies at Kings College, London. Proficient in Turkish, Dr. Stein also has elementary knowledge of Arabic and French.
Jan 31: 'Between Ankara, Brussels and Moscow'
—The series will conclude with the fourth and final morning lecture on Thursday, Jan. 31 at 10 a.m. by Amanda Sloat, titled "Between Ankara, Brussels and Moscow."
Dr. Amanda Sloat is a Robert Bosch senior fellow in the Center on the United States and Europe at the Brookings Institution. She is also a fellow in the Ash Center at Harvard Kennedy School's Belfer Center for Science and International Affairs.
Dr. Sloat has served in the U.S. government for nearly a decade. She served in the Barack Obama administration as the assistant secretary for Southern Europe and Eastern Mediterranean Affairs at the State Department, as well as senior advisor to the White House coordinator for the Middle East, North Africa, and Gulf region.
Prior to her government service, Dr. Sloat was a senior program officer with National Democratic Institute, and a post-doctoral research fellow with the Institute of Governance at Queen's University, Belfast.
Dr. Sloat holds a doctorate in politics from the University of Edinburgh and a bachelor's in political theory from James Madison College at Michigan State University.
She has published the book Scotland in Europe: A Study of Multi-Level Governance (Peter Lang Pub Inc. 2002). Her topic will be "Between Ankara, Brussels and Moscow": the competing influences between the EU and Russia for Turkish trade, refugees, military and global alliances.
IF YOU'RE GOING …
Registration for the four-week series is available online or through the DCA office.
Tickets for the Thursday morning series are available until Jan. 2, 2019, at $100/public and $75/DCA members.
Tickets for the Wednesday evening lecture and reception are $35/public and $30/DCA members. Single tickets for the Thursday morning series ($30) and the evening lecture ($30/DCA members, $35/public) will be sold at the door on a space-available basis.
Prepaid tickets will be available at the door prior to the first lecture. No tickets will be mailed in advance.
The DCA's 2019 Academic Lecture Series Sponsor is Ring's End.
For more information contact the DCA at info@dariendca.org or 203-655-9050 extension 10. The DCA is located at 274 Middlesex Road in Darien.