Darien merchants participating in Sidewalk Sale Days "reported record sales," according to the Darien Chamber of Commerce, which organized the event, which continues for one more day: Saturday.
On Thursday, sidewalks downtown were full of merchandise at a discount, along with fun things for kids, and some for adults.
Seth Morton (also moderator of the Darien Representative Town Meeting) had a game set up with a wheel kids could spin.
"I tell them to remind their parents who I am and to give them a card — it'll be the only card they're given" at the sidewalk sales, he said.
He'll tell adults that he's available to help them when they're planning their future,  "looking at what their assets are, what their liabilities are and what their situation is at the moment."
Importantly, "how we can secure what they're doing. If you're not there, how do these things get support." Including, most importantly, those kids — the same ones passing along Seth Morton's business card.
At the Darien YMCA table, Jessica Van Sciver, director of health and fitness at the Y, was offering two-minute surveys that would earn a survey-taker a free guest pass at the YMCA. On Saturday, the first five people who take a survey for mothers and daughters get a free tank top, she said.
What's Coming Saturday
On Saturday, you can expect (along with the sales tables and racks): the Collectible Car Show (on Day Street, behind Laurel Road Bank), the bouncy house, face painting, balloon creations by Mr. Bungles, circus stiltwalkers, caricatures by Rob Tuttle and frozen treats.
At Darien Fire Department headquarters, kids can explore a fire truck and see the Darien Police Department's Harley Davidson police "Road King" motorcycle.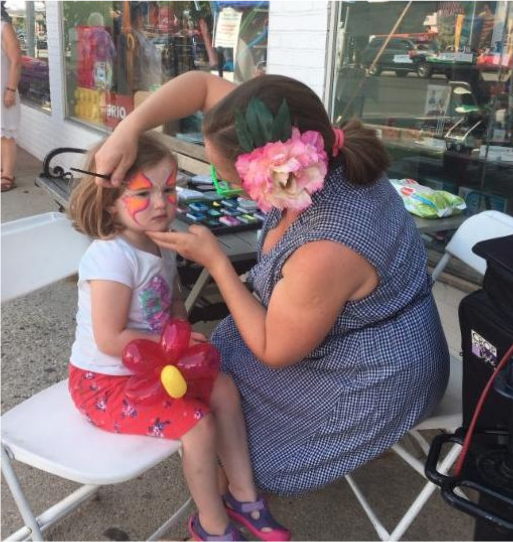 Photo from Darien Chamber of Commerce permalink
Don't let that look on her face fool you: The kid loves having her face painted. Loves it.