Darien police are investigating a bank robbery that occurred at about 3:30 p.m., Monday in the Chase Bank at 454 Post Road, in the same shopping plaza where Trader Joe's and Orvis are located.
No weapon was pulled out and no one was injured.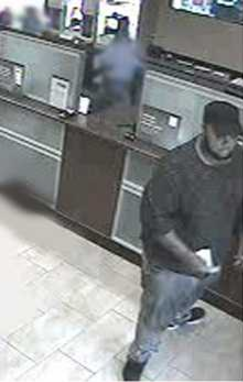 Police say that police were called to the scene at 3:35 p.m. after a man walked into the bank and passed a note with a demand for money to a female teller.
She gave him money from her cash drawer, and he left, then got in a white Toyota Camry, which left on the Post Road, going east, toward Norwalk.
The exact amount of money stolen was still being tallied late Tuesday morning when police announced the incident.
Seven employees and one customer were in the bank during the robbery.
Descriptions

The robber

The robber is described as a black male, five feet, nine inches in height, heavyset with a beard, in his late 20s to early 30s, wearing a dark baseball cap, dark, oversized, patterned shirt and baggy pants, possibly gray or beige.

The man was described as having tattoos on his left hand and his face, described as a "tribal" design. It's possible the tattoos were temporary and part of an attempt to conceal his facial features.

The vehicle

The suspect was observed entering a white vehicle, described as a Toyota Camry, with orange NY state license plates. The vehicle was last observed exiting the parking lot and traveling E/B on the Boston Post Road.
Police detectives are still investigating the robbery and have advised the FBI.
A Police Department announcement on Tuesday said:
Any persons with potential information on this subject or vehicle are requested to call the Darien Police Department Detective Division at (203) 662-5330. Bank surveillance photos of the suspect are attached.