Another motor scooter has been reported stolen in town, and Darien police say they have video surveillance of two people riding off after the thefts of two scooters at the Noroton Heights Railroad Station.
Latest theft
In the most recently reported theft, a resident of Hollow Tree Ridge Road who lives near Wee Burn Country Club told police on Wednesday, July 29 that sometime between the previous Thursday and Sunday his 2013 Yamaha Zuma scooter was taken.
It had been parked on the driveway outside the garage, and the owner remembered seeing it on Wednesday, July 22 or Thursday before leaving on a trip that day. He returned from the trip, then noticed the scooter missing on Tuesday, the day before he reported the theft to police.
The vehicle is valued at $2,500.
Noroton Heights Train Station Theft
After a motor scooter was reported stolen from the Noroton Heights Railroad Station, police say they have surviellence video which appears to show suspects.
The theft occurred sometime betwen July 9 and 13 (yet another motor scooter was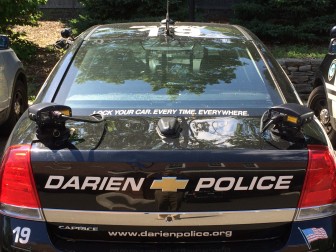 A man told police he parked his red 2014 Wolf motor scooter on the New York-bound side (the north side, nearer Heights Road) of the tracks at about 8 a.m. on July 9, then returned July 13. He reported the theft to police the next day. The scooter is valued at $1,200.
Normally, the man said, he secured his motor bike with a chain, but he didn't specifically remember securing it on July 9. He parked it by the staircase on the north side of the station. He still has the key for the vehicle.
The video doesn't show the theft itself, police said (some parts of the station have video surveillance, some don't). The video recording does show two suspects entering the station on bicycles, then leaving on motor scooters, police told Darienite.com.
The police investigation is continuing.