"Quiet Cars" — where passengers are asked to speak only in a "subdued voice," not use cell phones and disable sound on electronic devices — will be on every weekday Metro-North train as of Monday, April 4, the Metropolitan Transportation Authority announced.
Here's the announcement:
Starting Monday, April 4, two Quiet Cars will be available on every weekday train — peak and off-peak — thanks to the expansion of our popular "Quiet CALMmute" program.
• On all weekday inbound trains, the last two cars are designated Quiet Cars.
• On all weekday outbound trains, the first two cars are designated Quiet Cars.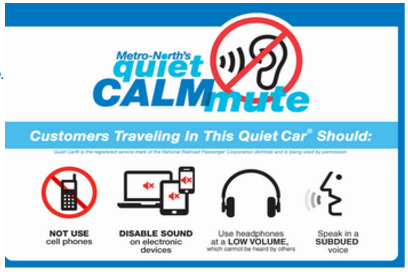 Look for the Quiet Car signage identifying the cars.
Customers Traveling On Quiet Cars should:
• Not use cell phones.
• Disable sound features on computers & other electronic devices.
• Conduct conversations in a subdued voice.
• Use headphones at a volume that cannot be heard by fellow passengers.
Customers should not ride in Quiet Cars if they do not want to follow these rules.
To spread and reinforce the message about Metro-North's Quiet Cars, conductors will hand out on an "as needed basis" specially designed "Shhhhhh" cards that explain the rules of etiquette in English and Spanish.
Weekend trains are not included in the Quiet Cars program.
PLEASE NOTE: All regular announcements will continue to be made in the designated Quiet Cars. For those of you who wish to travel in our Quiet Car, we say enjoy the "CALMmute." For more information, call Metro-North Customer Service at 511 (in CT, 877-690-5114).
Quiet Car is the registered service mark of the National Railroad Passenger Corporation (Amtrak) and is being used by permission.