The town Monuments and Ceremonies Commission released a list of marchers for the Memorial Day parade and the order that they're marching in, as well as the program for the ceremony after the parade.
At the bottom of this article is added the list of instructions given to parade marchers.
Here's the announcement:
Darien's Memorial Day Parade, and our time-honored Commemorative Ceremony for those who gave their lives in service to our country will take place Monday, May 31.
The Parade will start at 10 a.m. from the Goodwives Shopping Center, and proceed south [east] on the Post Road, ending at Spring Grove Veterans Cemetery, where our commemorative ceremony will take place immediately afterward.
Grand Marshal Peter O. Kenyon, Commander, USNR (retired,) will open our ceremony. He will be followed by Keynote Speaker Sharad Samy, Major, USArmy National Guard, and our guest speaker, the Honorable Christopher O. Murphy.
See Also:
—Darien's Memorial Day Parade Takes Place Monday, Some Traffic Restrictions Begin at 8 AM (May 25)
—Ceremonies Commission Names Darien's 2021 Memorial Day Parade Grand Marshal, Keynote Speaker (May 18)
—Darien Democrats Invited to March in the Memorial Day Parade (May 28)
—Police Department to Mark 40th Anniversary of Officer Kenneth E. Bateman's Death in the Line of Duty (May 24)
Line of March
| | | | | |
| --- | --- | --- | --- | --- |
| ABB | Division | NAME/ORGANIZATION | | Notes |
| 1 Ldr | 01-01 | Division 1 Leader | | |
| DPD CG | 01-02 | Darien Police Dept Color Guard | | |
| GM veh | 01-03 | Antique Car | Preston Bealle | 1964 White Cadillac Convertible |
| G M | 01-03 | Grand Marshal Peter Kenyon | | riding with Bealle |
| Officials | 01-04 | State Representative | Terrie Wood | |
| Officials | 01-04 | State Representative | Matt Blumenthal | |
| Officials | 01-04 | State Senator | Bob Duff | |
| Officials | 01-04 | State Senator | Patricia Billie Miller | |
| Officials | 01-04 | Town of Darien- First Selectman | Jayme Stevenson | |
| Officials | 01-04 | Town of Darien- Selectman | Kip Koons | |
| Officials | 01-04 | Town of Darien- Selectman | Christa McNamara | |
| Officials | 01-04 | Town of Darien- Selectman | Sarah Neumann | |
| Officials | 01-04 | Town of Darien- Selectman | David Martin | |
| DHS BAND | 01-05 | Darien High School Band | | 30-foot float with Jazz band |
| VFW CG | 01-06 | VFW Post 6933 Color Guard | | |
| CT NAT GD | 01-07 | CT NATIONAL GUARD | | |
| 2 Ldr | 02-01 | Division 2 Leader | TBD | |
| POST 53 | 02-02 | Darien EMS–Post 53 | | 100 marchers and 2 vehicles |
| MUSEUM | 02-03 | Darien Museum | | Whale Boat/Bi-centennial cake |
| MUSEUM | 02-03 | Antique Auto | Bruce Sargent | 1953 Packard Caribbean |
| DAR | 02-03A | Good Wife's River Chapter D.A.R. | | Whale Boat w/5th CT Regiment |
| 2020 | 02-03B | Darien Bicentennial 2020 | | Walking with cake |
| YWCA | 02-04 | YWCA-Darien/Norwalk | | Jeep Wrangler- 40 marchers |
| MASONS | 02-05 | Masonic Lodge- Ivanhoe #107 | | 1 Vehicle plus float |
| CH COMM | 02-06 | Darien Chamber of Commerce | | 2 vehicles- 12 marchers |
| COMM FND | 02-07 | Community Fund of Darien | | 1 vehicle |
| IRISH | 02-08 | Harner-Pender-Keady Irish Dancing | | 1 car – music for dancers |
| DMA | 02-09 | Darien Men's Association | | 6 cars |
| SAIL & POW | 02-10 | Darien Sail & Power Squadron | | car and boat- 10 marchers |
| FAIRFIELD P | 02-11 | Fairfield County Police Pipes & Drums | | DFD Band |
| DFD | 02-12 | Darien Fire Dept. | | |
| DFD veh | 02-13 | Darien Fire Dept. Apparatus | | |
| 3 Ldr | 03-01 | Division 3 Leader | TBD | |
| Lefferts | 03-01 | Antique Vehicle | Seth & Penny Lefferts | 1939 Jaguar  SS-100 Roadster |
| G S A | 03-02 | Girl Scouts of Connecticut | Sueann Schorr | 108 |
| CUBS  55 & 56 | 03-03 | Cub Scouts–Pack 55- Ox Ridge | | |
| CUBS  55 & 56 | 03-04 | Cub Scouts–Pack 56- Royle School | | 25 |
| CUBS 155 & 161 | 03-05 | Cub Scouts-Pack 155- Holmes School | | |
| CUBS 155 & 161 | 03-06 | Cub Scouts–Pack 161- Hndley School | | |
| BSA 35 | 03-07 | BSA-Troop 35 | | |
| BSA 53 | 03-08 | BSA–Troop 53 | | |
| BSA219 | 3-09 | BSA Troop 219 (Girls) | | 20 walking |
| NYS Court | 03-10 | New York State Courts Pipes & Drum Corps | | NFD Band |
| NFD | 03-11 | Noroton Fire Dept. | | |
| NFD veh | 03-12 | Noroton Fire Dept. Apparatus | | |
| 4 Ldr | 04-01 | Division 4 Leader | TBD | |
| Pankowski | 04-03 | Darien Senior Activities Center | | 1930 Model A Ford pickup |
| AT HOME | 04-04 | At Home in Darien | | 2 vehicles |
| ATRIA | 04-05 | Atria Darien | | 2 vehicles |
| DEMOCRATS | 04-06 | Darien Democrats | | 20 |
| GREEN | 04-07 | Darien Green Team | | 20 |
| OLD TIMER | 04-08 | Darien Old Timers Athletic Ass'n | | 1966 Mustang convertible |
| REPUBLICAN | 04-09 | Darien Republican Town Committee | | |
| MILFORD VOLUNTEER | 04-10 | Milford Volunteers Ancient Fife & Drum Corps | | NHFD Band |
| NHFD | 04-11 | Noroton Heights Fire Dept. | | |
| NHFD veh | 04-12 | NHFD Apparatus | | |
Program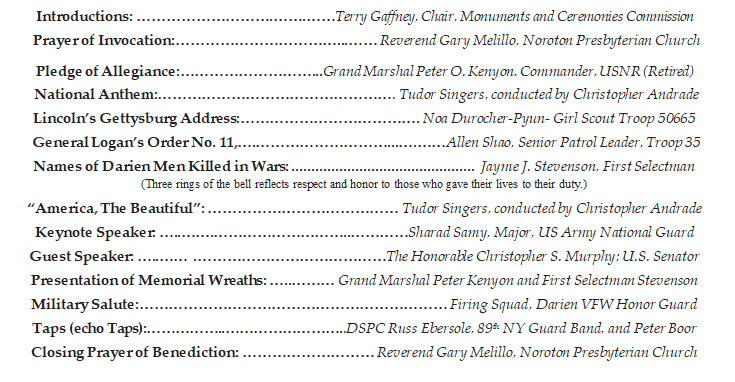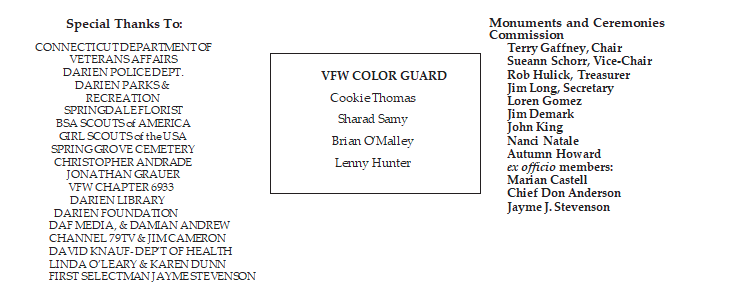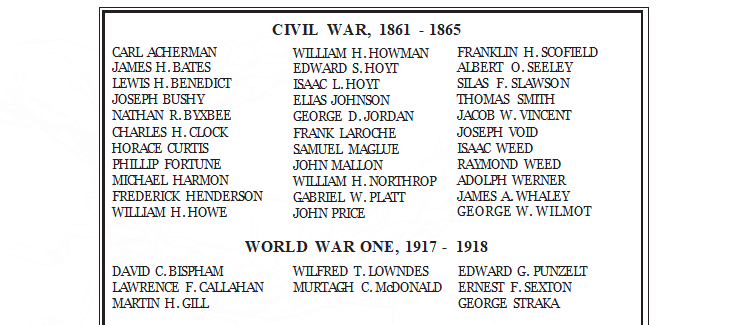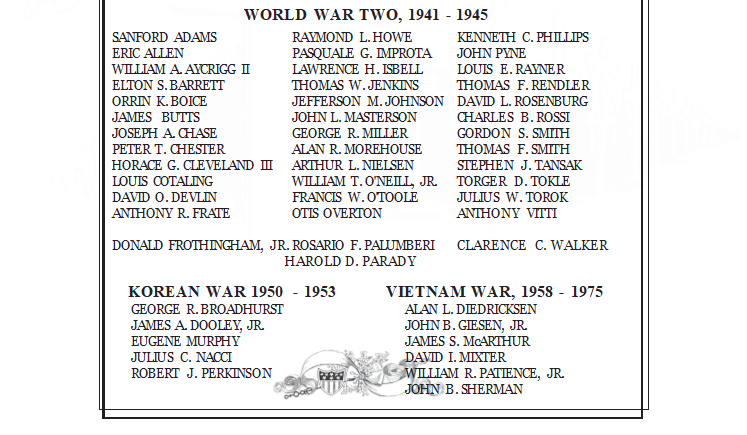 Instructions for Parade Marchers