Celebrate summer reading with novelist Beatriz Williams on Thursday, July 12 at Darien Library as she discusses her new blockbuster novel of the season, The Summer Wives, a postwar fable of love, class, power, and redemption set on a New England island.

In the summer of 1951, Miranda Schuyler arrives on exclusive Winthrop Island as a schoolgirl from the margins of high society, still reeling from the loss of her father in the Second World War.
When her mother marries Hugh Fisher, whose summer house on Winthrop overlooks the famous lighthouse, Miranda is catapulted into a heady new world of pedigrees and cocktails, status and swimming pools.
— an announcement from Darien Library
Yet beneath the island's patrician surface there are really two clans: the summer families with their traditional customs and quiet obsessions, and the working class of Portuguese fishermen and domestic workers who earn their living on the water and in the laundries of the summer houses.
As the summer winds to its end, Miranda finds herself caught in the island's web of secrets and a catastrophe that will shatter Winthrop's hard-won tranquility.
Now, in the landmark summer of 1969, Miranda returns to the Island after years in exile, as a renowned actress hiding a terrible heartbreak.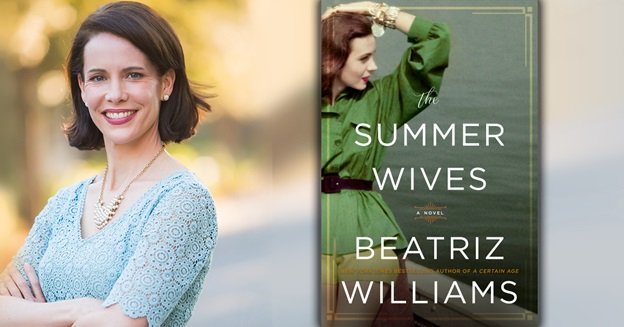 On its surface, the Island remains the same — determined to keep the outside world from its shores, fiercely loyal to those who belong. But the formerly powerful Fisher family is a shadow of itself.
What's more, Miranda herself is no longer a naïve teenager, and she begins a fierce, inexorable quest for justice for the man she once loved . . . even if it means uncovering every last one of the secrets that bind together the families of Winthrop Island.
If You're Going …

The event takes place from 7 to 8 p.m., Thursday, July 12 in the Community Room at Darien Library.
Books will be available for purchase courtesy of Barrett Bookstore.
Refreshments will be served.
About the Author
Beatriz Williams is the New York Times bestselling author of A Hundred Summers, The Secret Life of Violet Grant, Along the Infinite Sea, A Certain Age, and several other works of historical fiction.
A graduate of Stanford University with an MBA in finance from Columbia University, Beatriz worked as a communications and corporate strategy consultant in New York and London before she turned her attention to writing novels that combine her passion for history with an obsessive devotion to voice and characterization.
Beatriz's books have been translated into more than a dozen languages and appear regularly on bestseller lists around the world.
Born in Seattle, Beatriz now lives near the Connecticut shore with her husband and four children, where she divides her time between writing and laundry.