Lambsy, a 30-pound, short, beige/buff-colored dog, was lost near Tilley Pond Park in Downtown Darien a week ago, according to Abandoned Angels & Cocker Spaniel Rescue.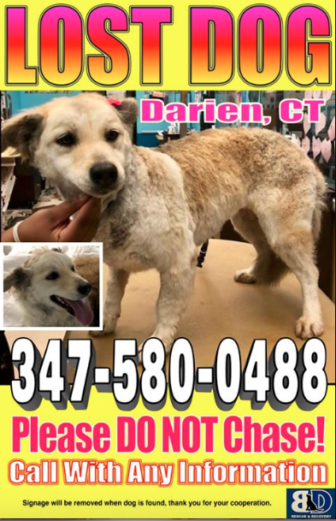 The organization brought her to the U.S. only two days before her "foster mom" lost her in Darien. The dog is from Cyprus, where she's used to warmer weather, so she's been exposed to unaccustomed cold (unless somebody let her in).
If you have any information about her, you're urged to call 347-580-0488.
Lambsy "is undoubtedly terrified, cold, and hungry," and she's "also likely in need of medical care," according to Abandoned Angels Cocker Spaniel Rescue., which is helping to try to find her.
The organization further describes her as "long bodied" with darker fur along the top of her back and her tail (see the picture below). "This dog is extremely timid and nonaggressive, possibly wearing a pink harness," according to Karen Mickley-Gomez, vice president of the organization. "Lambsy is microchipped to us […] fully vetted, spayed, current on vaccinations."
'Please DO NOT Chase!" say posters that have been put up around downtown and store owners have been contacted as part of the search, but there haven't been any confirmed sightings.
"Time on the weather are not on our side," Mickley-Gomez wrote in a message to Darienite.com.