Seldom, and just possibly never, has a fairly typical search for a lost dog taken such a bizarre twist: The owner, nonprofit Abandoned Angels Cocker Spaniel Rescue Inc. says the "foster mother" who took in Lambsy seems to have the dog in her possession, but hasn't paid for the pet.
In a social media post late on Friday afternoon, the New York state-based nonprofit said the canine had been brought into "a 24-hour vet[erinarian] clinic in Cheshire, Conneciticut at 5 a.m. this morning by her foster [owner]." The dog was "heavily tick infested."
[Darienite.com is not going to name the Darien woman that Abandoned Angels Cocker Spaniel Rescue Inc. says still has the dog and hasn't been in touch with them. Since many posters have been put up around town for the dog, and we've found quite an interest among our readers, we wanted to provide this update.]
The organization says the "foster mother" in Darien
"took this dog home on a foster-to-adopt basis but lost her within three days. This dog's adoption was never finalized, nor was her adoption fee ever paid. Lambsy remains owned by and microchipped to Abandoned Angels Cocker Spaniel Rescue.

"We have no information about how [the woman] recovered Lambsy or where she has been for the past 12 days. That said, we have repeatedly informed [the woman] that she must return the dog to us immediately in the event that Lambsy is found. [The woman] has not been in touch with us.

"We have involved both Darien Animal Control and the Darien Police, who have been unable to locate her in Darien. They have communicated to [the woman] that she must contact the Darien Police immediately and appear at the police station. As at this time, she has failed to respond to the Darien police."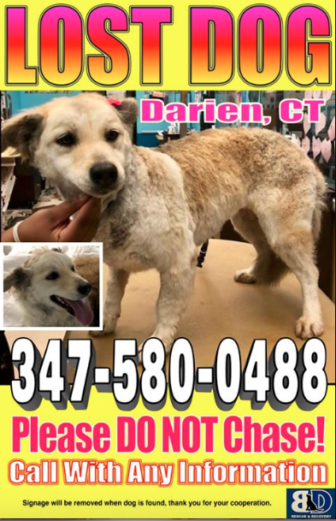 The organization says Darien police have a medical report from the animal hospital in Cheshire where Lambsy was treated at 5 a.m., Friday. "She came in heavily tick infested but we understand was alert."
The organization has not questioned whether Lambsy was ever, in fact lost.
As of Saturday mornng, there was still a poster for Lambsy up on Noroton Avenue near Baker Park. The organization has said it intends to take down the posters once the search for Lambsy is ended.
_____________
See also: