Interior designer Charlotte Moss and textile guru Lisa Fine will share their expertise on designing private spaces and speak about their latest books, Flowers and Near & Far: Interiors I Love.
— an announcement from Darien Library and Barrett Bookstore
This virtual event will take place on Thursday, June 3 at 7 p.m. You can register on Darien Library's website.
About Charlotte Moss
Charlotte Moss is an interior designer, author, and philanthropist. She has designed private residences in the United States and abroad, in addition to collections of carpets, furniture, fabrics, china, and enameled jewelry.
She has authored ten books, most recently Rizzoli's Charlotte Moss Entertains (2018).
Moss lectures internationally on the art of fine living and is consistently featured in the top lifestyle and design publications.
Other books by Charlotte Moss for Rizzoli include: Garden Inspirations (2015), A Visual Life (2012), and Charlotte Moss Decorates (2011).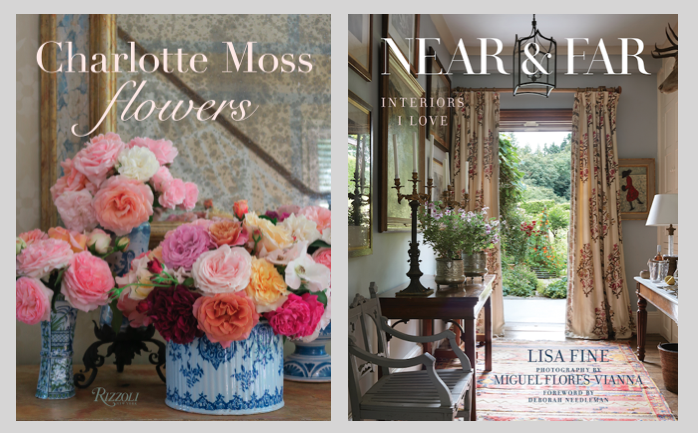 About Lisa Fine
Mississippi-born textile guru Lisa Fine is the founder of Lisa Fine Textiles, which specializes in hand printed linens that are sold in sixteen showrooms worldwide. With a southern drawl and a truly adventurous spirit, Fine splits her time between New York and Dallas with frequent trips to Paris and India.
Over twenty years ago at a camel festival in Jaisalmer, Fine fell in love with India. The colors, the patterns, the Mughal palaces and gardens were her original inspirations for Lisa Fine Textiles.
Since then Fine's far reaching travels have continued to influence her collection, where exotic and traditional prints in vibrant and romantic colors feel both worldly and timeless.
Fine's work has appeared in Departures, Elle Decor, House & Garden UK, House Beautiful, The New York Times, The Herald Tribune, The World of Interiors and Vogue.
Prior to designing textiles, Fine worked as a contributing editor for Elle Décor and House Beautiful. She is currently a contributing editor for Town & Country. Her book, Near & Far: Interiors I Love, was published in October 2019 by Vendome.