Darien Library Friday is showing Unbroken: Path to Redemption about Olympian and WWII hero Louis Zamperini after the events of the 2014 movie Unbroken. It was produced by different moviemakers.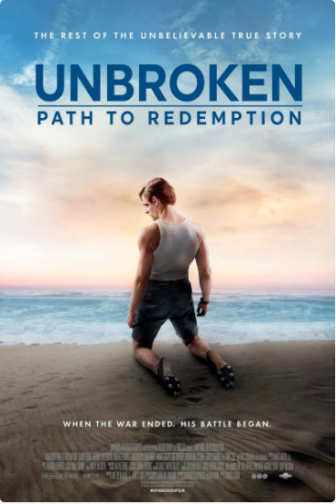 — an announcement from Darien Library
The film will be presented twice on Friday night, Jan. 11, first from 6:30 to 8:15 p.m., then from 8:30 to 10:15 p.m. in the Community Room. The 98-minute movie is free, like all movies shown at Darien Library.
Zamperini's story continues as he meets and marries the love of his life while struggling with his post-war angst and trouble with alcohol, until a chance meeting with Billy Graham in 1949 changes both of their lives forever.
The movie, released in mid-September stars Samuel Hunt, Merritt Patterson, Bobby Campo, Vanessa Bell Calloway and Gary Cole. The film is rated PG-13 for thematic content and related disturbing images. It is presented with captions for the hearing impaired.
____________
Learn more about the film:
Official website | IMDb.com | Metacritic | Rotten Tomatoes | Wikipedia (film) | Wikipedia (Zamperini)