Stamford Symphony Concert: Vivaldi's Four Seasons
Sunday,Nov, 11, 2018 @ 3:00 pm
|
Recurring Event
(See all)
One event on Sunday,Nov, 11, 2018 at 3:00pm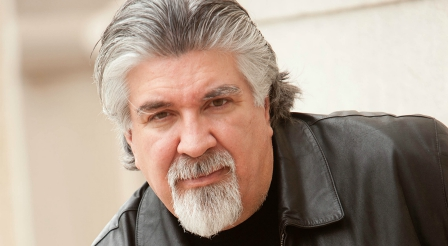 Stamford Symphony will be performing the Vivaldi Four Seasons program, which also includes a piece called Visions and Miracles by living composer Christopher Theofanidis and Mendelssohn's Sinfonia No. 8.
The performances are at 8 p.m., Saturday, Nov. 10 and at 3 p.m., Sunday, Nov. 11 at  Stamford's Palace Theatre.
— an announcement from the Stamford Symphony
Guest Conductor and violinist Andrés Cárdenes, will have a dual role in leading the orchestra at the concerts:  He will be conducting from the podium, as well as, directing and performing as the soloist in Vivaldi's Four Seasons.
Vivaldi's Four Seasons, a composition created in 1725, stands the test of time as it is quite possibly one of the most popular pieces of classical music! This ubiquitous baroque work, paired with the artistry of Andrés Cárdenes, will create an experience that will most certainly be new and exciting.
If You're Going …

Again, the performances are at 8 p.m., Saturday, Nov. 10 and at 3 p.m., Sunday, Nov. 11 at  Stamford's Palace Theatre.
According to the Stamford Symphony website, ticket prices range from $25 to $76.
Single tickets on sale via StamfordSymphony.org or the Box Office: 203.325.4466.
Introductory offer of 50 percent OFF a subscription of 5 concerts still available to new subscribers.
Just call our exceptional Patron Services at 203.325.1407 x 10 to select your seats and subscription for a season you will not regret.
About Andrés Cárdenes
Andrés Cárdenes has established himself as a conductor possessing all the essentials of a modern maestro. His innovative programming and compelling performances have earned him high praise from audiences, critics and colleagues alike.
Former music director of Strings Festival Orchestra (CO) from 2009-14, the Pittsburgh Festival Orchestra, and former music director and leader of the Pittsburgh Symphony Chamber Orchestra from 1999-2010, Cárdenes has drawn audiences to the concert hall for a vast array of aural experiences.
A champion of living composers and the music of our time, Cárdenes's formula for presenting diverse genres of music has been met with great enthusiasm.
At the age of 15, Mr. Cárdenes began formal conducting studies with Thor Johnson, former Music Director of Cincinnati Symphony.
Entering Indiana University to study with the legendary Josef Gingold, Cárdenes continued his education under the tutelage of Bryan Balkwill, former conductor at Covent Garden.
After winning top prizes at numerous international violin competitions, Cárdenes accepted concertmaster positions with the San Diego, Utah and Pittsburgh Symphony Orchestras, remaining in those capacities for 25 years and apprenticing under the great maestros of today.
In 1999, the Pittsburgh Symphony Chamber Orchestra was created for Andrés Cárdenes to highlight his multiple talents as conductor, violinist, violist and leader. The Chamber Orchestra enjoyed a remarkable eleven seasons, premiering 15 works and presenting dozens of rarely heard pieces by well-known composers.
Mr. Cárdenes has also conducted orchestras across the globe: Munich Radio Orchestra, Dallas Symphony, Detroit Symphony, Colorado Symphony, St. Petersburg (Russia) Chamber Orchestra, San Diego Symphony, OFUNAM Orchestra of Mexico City, among others.
Maestro Cárdenes is currently Music Director of Orchestral Studies and Conductor of the Carnegie Mellon University Philharmonic. To learn more about Andrés Cárdenes, please go to:  www.andrescardenes.com.