In the 2017 film Lady Bird, Christine "Lady Bird" McPherson (Saoirse Ronan) fights against but is exactly like her wildly loving, deeply opinionated and strong-willed mom (Laurie Metcalf), a nurse working tirelessly to keep her family afloat after Lady Bird's father (Tracy Letts) loses his job.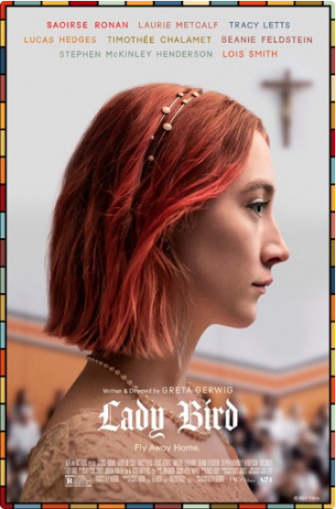 Set in Sacramento, Ca. in 2002, amidst a rapidly shifting American economic landscape, Lady Bird is an affecting look at the relationships that shape us, the beliefs that define us, and the unmatched beauty of a place called home.
Starring Saoirse Ronan, Laurie Metcalf, Tracy Letts, Lucas Hedges, Timothée Chalamet; Rated R for language, sexual content, brief graphic nudity and teen partying; 93 minutes; Presented with captions for the hearing impaired.
Website — IMDb — Rotten Tomatoes — Metacritic — Wikipedia
Two showings — at 6:30 p.m. (ends 8:15 p.m.) and 8:30 p.m. (ends 10:15 p.m.)
For more information, please watch the film's trailer.