There's something very special in Darien. Darien is home to one of the only programs of its kind in the United States: Darien EMS- Post 53.
This nationally recognized organization relies on high school students and adult volunteers/advisors to provide emergency medical services to our town.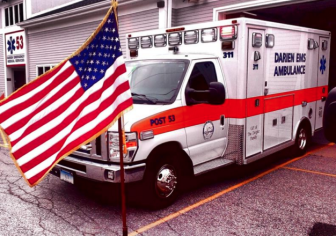 Some may be nervous at the thought of a teenager responding to an emergency call, but these young adults are different than most!
They are state certified EMTs who are trained to a standard of excellence with medical direction provided by Stamford Hospital.
_________
— This is an announcement from Nielsen's Florist.
_________
This year, Post 53 invites you to join them for their 3rd annual Home for the Holidays; Holiday Tablescapes party in The Conservatory at Nielsen's Florist, 1405 Post Road. Please join members of Post 53 on Nov. 12 at 5:30 p.m. and help raise money for this vital organization.
This stunning holiday party will feature designer holiday table ideas from Ed Lent, Nielsen's own designers and tablescape winners from the Garden Club of Darien.
Expect wine, hors d'oeuvres and a chance to start some holiday shopping in a beautiful environment.
Tickets are $20 at the door but advanced $15 tickets will be available through a post member. Ticket proceeds and 10 percent of all sales that day will go to Post 53.
Darien EMS-Post 53 will be in attendance of course, passing hors d'oeuvres and chatting with guests. Please come in, get to know your local "posties" and help us celebrate this wonderful time of year.
For more information about Post 53, please visit www.post53.info
"Home for the Holidays"
Thursday, November 12
5:30 pm
Nielsen's Florist
1405 Post Rd, Darien.