Smartphone apps, robots, and video games — the world runs on code. Now kids can learn how to control technology creatively.
Children, ages 5 to 8 will design, play with and learn from robots from April 9-13 at Stepping Stones Coding and Robotics Camp to be held during April school vacation.
_________
— an announcement from Stepping Stones Museum
_________
Day campers at the Norwalk musuem will discover the basics of computer coding through interactive activities and games, plus have the opportunity to explore the museum's many thrilling exhibits.
The week of electronic excitement for children ages 5 to 8 will run from 8:30 a.m. to  3:30 p.m. every day during April vacation week from April 9 through April 13. Don't need a full week? Sign up by the day!
This unique educational experience will challenge and teach students coding skills through fun, engaging and dynamic projects such as building circuits, making a binary necklace and even a battle-bot competition!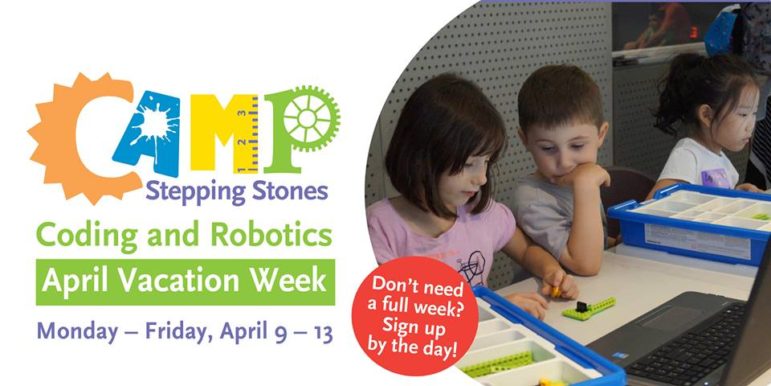 The program provides supportive, educator-led instruction followed by hands-on learning that will take the mystery out of technology. Young campers will gain technical skills along with confidence as they explore, create and problem-solve.
Call 203-899-0606 ext. 247 for more information or to register. Space is limited.
Itinerary 
8:30 a.m. —  Meet and greet caregivers and children, Warm-up
8:45 a.m. —Exhibit Experiences
9 a.m. — Coding
10 a.m. — Refuel
10:30 a.m. — Robot Engineering Lab
12 noon — Refuel and Free Play
1 p.m. —  Museum Movement
2 p.m. —  Exhibit Experiences
2:30 p.m. —  Museum Movement
3 p.m. —   Cool-down
3:30 p.m. —   Dismissal
Full-Day Hours: 8:30 a.m. – 3:30 p.m.
Members $75/day, Non-Members $85/day
$50 off 5-day sibling registration
About Stepping Stones Museum for Children
Stepping Stones Museum for Children is an award-winning, private, non-profit 501 (c)(3) children's museum committed to broadening and enriching the lives of children and families.
For more information about Stepping Stones, to book a field trip or schedule a class, workshop or facility rental call 203-899-0606 or visit the website.  www.steppingstonesmuseum.org.
Stepping Stones Museum for Children is located at 303 West Avenue, Norwalk, CT, exit 14 North and 15 South off I-95. Museum hours are: Labor Day through Memorial Day, Tuesday-Sunday and holiday Mondays from 10 a.m. to 5 p.m.; and Memorial Day through Labor Day, Monday-Sunday from 10 a.m. to 5 p.m.  Admission is $15 for adults and children and $10 for seniors. Children under 1 are free. 
Get social with Stepping Stones on Facebook, Twitter or Instagram.