New Canaan Library is pleased to welcome back award winning, internationally acclaimed musical duo Atwater-Donnelly, performing their compelling blend of traditional American and Celtic folk songs and percussive dance music.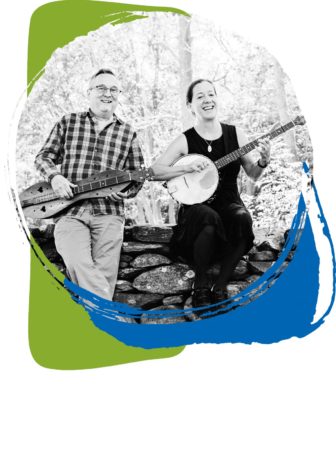 The performance takes place on Saturday, June 23 at 12 noon in Christine's Garden, corner of Maple Street and South Avenue, adjacent to the Library and across from the Farmer's Market.
Attendees should bring a lawn chair or blanket for seating; please register for this program online.
Elwood Donnelly and Aubrey Atwater blend beautiful harmonies and play an astonishing array of instruments including guitar, Appalachian mountain dulcimer, mandolin, tin whistle, harmonica and banjo.
What exactly they will perform is always an unknown, because first they 'read' their audience. "One of my favorite parts of our creative life is crafting shows right before the watchful eyes and ears of our audiences," says Aubrey Atwater.
Another high point of their repertoire is a lively interpretation of freestyle Appalachian clog dancing. Atwater-Donnelly's performance is appealing to all ages; with humor, audience participation, and a relaxed stage presence, they explain song origins to give relevance to the material.