The Norwalk Art Space, the area's newest museum, will open its doors to the public with a weekend-long celebration featuring a group exhibition, an outdoor live music festival, and the opening of the Art Space Cafe by celebrated Chef Bill Taibe.
— an announcement from The Norwalk Art Space
The museum, just north of the Lockwood-Mathews Mansion Museum in central Norwalk (off Exit 14), features a gallery, resident artists, classes, a sculpture garden and cafe, and musical performances.
Live music will be presented in our sculpture garden by a wide variety of musicians.
SEE ALSO: A New Museum, Norwalk Art Space, Opens June 5 With Exhibit Tours, Outdoor Music, Sculpture Garden, Cafe (May 9)
On Opening Weekend
The opening weekend will feature:
A group exhibition by our Resident Artists and Korry Fellows, curated by Artistic Director 

Duvian

 

Montoya

, and Curatorial and Policy Advisor Nicole Sansone Ruiz, PhD.
The opening of our Sculpture Garden, curated by sculptural curator Yvonne Shortt.
An outdoor live music festival, orchestrated by Musical Director David DeJesus, on June 5, 12pm – 7pm and June 6, 12pm – 5pm.
The opening of the Art Space Cafe by celebrated Chef Bill Taibe.
The opening of educational facilities under the supervision of Educational Directors 

Duvian

 

Montoya

 and Darcy Hicks.
The launch of our new website and social media platform headed by Director of Communication and Space Manager, Canyon Sharits, and Director of Design and Community Ambassador, Raf Santella (aka Five Fingaz).
Admission is free and open for all to enjoy.
Art Exhibition
Starting on June 5, The Norwalk Art Space will host its first exhibition, open to the public free of charge.  The exhibition, curated by our Artistic Director Duvian Montoya, and Curatorial Advisor Nicole Sansone Ruiz, will feature select pieces from each of our four Resident Artists and five Korry Fellows, and will give the public a sample of the year ahead.
Community tours of the exhibition and space will take place at 1:30 and 4 p.m. on both Saturday and Sunday with the artistic director and participating artists.  The exhibition will last five weeks, through July 15, and will be followed by our first Korry Fellow Exhibition featuring Norwalk's own Jahmane West.
Our inaugural Korry Fellows, whose work will be exhibited, are:
Our inaugural Resident Artists, whose work will also be exhibited, are:
Korry Fellows and Resident Artists were selected through a rigorous, highly-competitive process for their artistic excellence, talent, body of work, reputation in the community, and interest in teaching, mentoring and public engagement.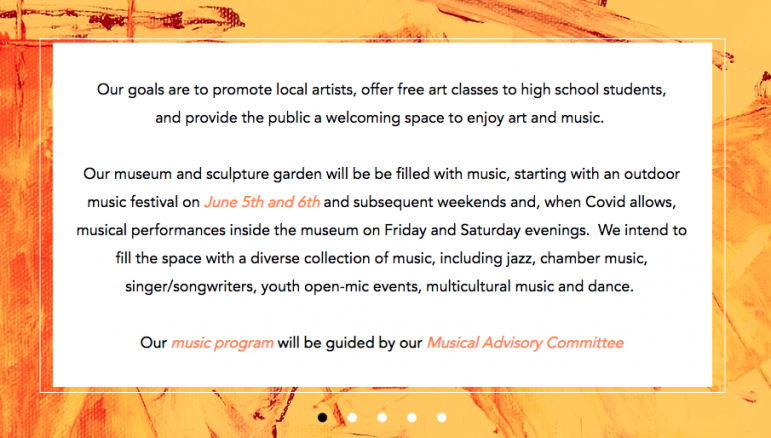 The Music
Saturday June 5 12 noon – 7pm
12 noon – 1:15pm – Rebecca Haviland and Whiskey Heart
1:30 – 2:30pm – ADK House Tour w/ Duvian Montoya, Kelly Rossetti and Lizzy Rockwell
2:30 – 3:15pm – Mariachi Ensemble
3:15 – 4pm – Indian Tabla Group
4 – 5pm – ADK House Tour w/ Duvian Montoya, Lorena Sferlazza and Jahmane West
5:30 – 7pm – Big Sound Big Band
Sunday June 6 12pm – 5pm
12 – 1:15pm – Funky Dawgz
1:30 – 2:30pm – ADK House Tour w/ Duvian Montoya, Tara Blackwell, Joseph Fucigna and Remy Sosa
2:30 – 3:15pm –  Japanese Folk Dancer
3:15 – 4pm – St. Lukes Steel Pan Band
4 – 5pm – ADK House Tour w/ Duvian Montoya, Yvonne Shortt, Francisco Mandujano
Our music program is designed to provide high caliber music education to underserved students and to enhance Norwalk's musical landscape.  Under the leadership of our Musical Director, David DeJesus, we will offer free classes, interactive workshops and performances featuring top-notch Connecticut musicians.
We hope to create a community outlet for local music by developing young musicians and providing opportunities to seasoned professionals.
"It was such an honor curating this opening festival for the Norwalk Art Space. I hope the Norwalk community enjoys the eclectic mix of musical genres from around the world featuring musicians and performers from Connecticut and beyond."
David DeJesus, Norwalk Art Space Music Director
The Sculpture Garden
Our sculpture garden, curated by Yvonne Shortt, is intended to be a dynamic link between The Norwalk Art Space museum and the adjoining community. The garden aims to inspire interaction and conversation in an artistic, welcoming environment. We have one permanent sculpture and three rotating sculptures which will change every two years.
There will be public programming associated with each piece and around public art in general, as well as educational programs offering hands-on learning.  The sculptures exhibited for our opening year include:
A permanent sculpture by Connecticut-based artist, Gilbert Boro, titled "After the Race III", which evokes memories of sailing on Long Island Sound.
Curator Yvonne Shortt's "Afro Pick: Don't Go, Don't Grow," which draws from her own experiences as both a mother and a daughter.  It depicts a moment of transition; of taking ownership and letting go. It does so using an afro pick base, an object with a rich 5,500 cultural history.
Yves Franciois Wilson's "Janus of the Hollow," which documents the artist's  grandfather's journey from serving as a young Marine in South Carolina to working as one of the first black foremen at a shipyard in Bridgeport.
Resident Artist Emily Teall's "Tulip Bulb," which draws on natural imagery of bulbs and wombs to evoke a gestation period in which the visitor can grow through introspection and reflection before emerging into the community.