What is the fastest growing threat to the health of Darien residents? How does the health of Darien residents compare with that of the US, or Connecticut?
Come to a 90-minute presentation tonight on chronic disease and stress in Darien. This is the third and last presentation in the series "Darien: How Healthy Are We?" about current health trends in town and how we compare with local communities and the state of Connecticut.
__________
Editor's note: This article is a combination of announcements from Darien Library and the Darien Health Department. At the bottom of this article are two videos from the previous two meetings, which are well worth watching (Darienite.com will have stories on them later — it's been a busy month, folks).
__________
Darien Health Department, along with renowned guest speakers, will present results of a year-long study of data related to health issues and trends in Darien.
Flu shots will be available from 5:30 to 6:30 p.m. for $25.
Week 3: Chronic Disease and Stress in Darien
David Knauf, Director of Darien Health, and Caleb Moore, MD, Medical Advisor for the Darien Health Department, will lead a panel discussion on chronic disease and stress in Darien. The series ends with important questions: what have we learned and where do we go from here?
State Rep. Terrie Wood will give opening remarks. The meeting lasts from 7 to 8:30 p.m. Refreshments will be provided.
About the panelists
Dr. Robert Zembroski is a physician, specialist in functional medicine, board-certified chiropractic neurologist, clinical nutritionist, best-selling author and motivational speaker. Twenty-three years in private practice helped Dr. Zembroski to become an expert in health topics from heart disease, diabetes, obesity, cancer, hormone-related issues, neurological dysfunctions and more. Dr. Z developed his own protocol of targeted supplementation, exercise, and specialized nutrition to ultimately become a cancer victor and author of the book Rebuild.
John Hamilton serves on the National Institute of Drug Abuse (NIDA) Steering Committee of the Clinical Trials Network, and Chair of the Community Treatment Provider (CTP) Policy Committee. John also serves as Chairman of the Advisory Board and is on the Executive Board for the Department of Mental Health and Addiction Services (DMHAS), Vice President of the Board of Directors for Connecticut Community for Addiction Recovery (CCAR) and the Regional Youth Adult Social Action Partnership (RYASAP), Chair for the CTP of Fairfield County, and is actively involved in community prevention councils in Fairfield County.
Trey Laird will discuss recovery from addiction and alcoholism – "This Can Happen to You!"
The Darien Library is proud to cosponsor this event with the Health Department of Darien, The Community Fund of Darien, Liberation Programs, Shatterproof, Darien Center for Functional Medicine, The Depot, Recovery Network of Programs, the Darien Police Department, and Whole Foods Darien.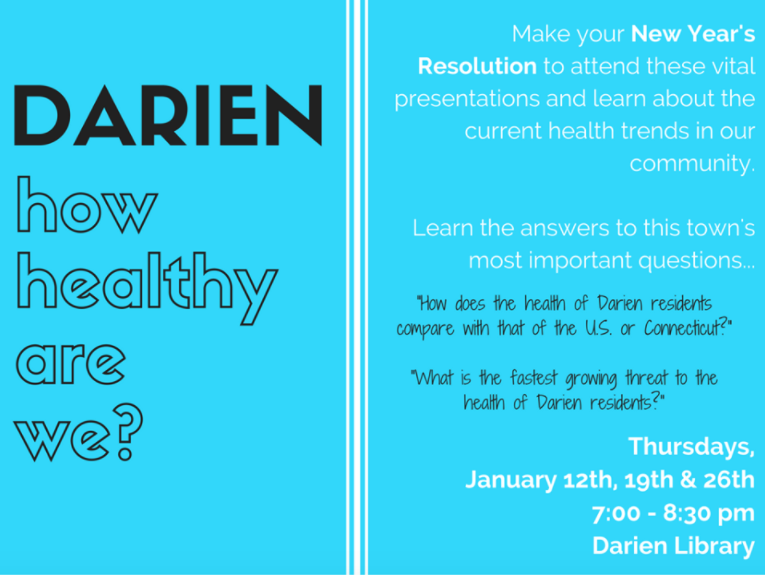 How Healthy Are We – Part 1 1-12-17 from Darien TV79 on Vimeo.
How Healthy Are We Part 2 1-19-17 from Darien TV79 on Vimeo.