State Rep. Terrie Wood announced that she's holding a "business informational forum" from 8 to 9 a.m., Tuesday, Oct. 29 at The Goose American Bistro & Bar, 972 Post Road in downtown Darien.
You don't have to be involved in a business to come, Wood says — the event is open to everybody. Wood, a Republican whose district includes Rowayton and most of Darien, and a Norwalk state representative held a similar event last Tuesday at Norwalk City Hall.
Here's most of Wood's description the event in her constituent newsletter Thursday morning:
The 2019 legislative session is proving to be one of most impactful times on the state's business community in recent years, especially considering the new Democrat-enacted taxes that went into effect Oct. 1.
Members of the state's business community and small to mid-sized businesses, in particular, are therefore critical players in the effort to turn around Connecticut's economy.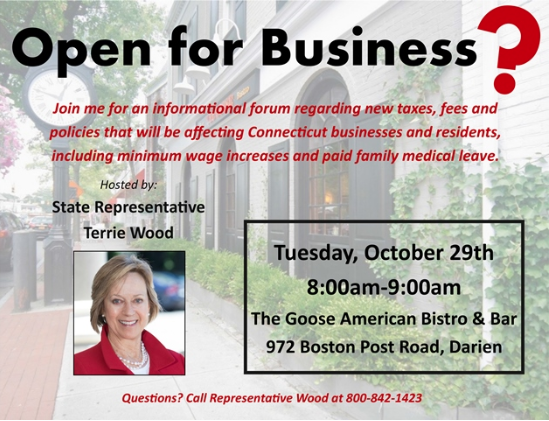 That's why I believe it is important for my constituents to learn information on legislative action that affects the state's business community.
At the forum, we will be discussing topics such as the state's new family leave program, an increase in the minimum wage and new requirements on sexual harassment training. […]
This event is free and open not just to business owners and their employees, but also the general public. If you are unable to attend, but would like to discuss new state business policies and other legislation that impacts Connecticut businesses, please contact me via the means listed below.