Seventeen eateries are participating in this year's Stamford Downtown Winter Restaurant Weeks, which runs for 14 days, from Feb. 17 to March 1, with participating restaurants offering prix fixe lunches and dinners.
— information from the Stamford Downtown Special Services District
Dine out and receive an Avon Theatre Film Center coupon to buy one general admission ticket and receive one free medium popcorn ($5 value).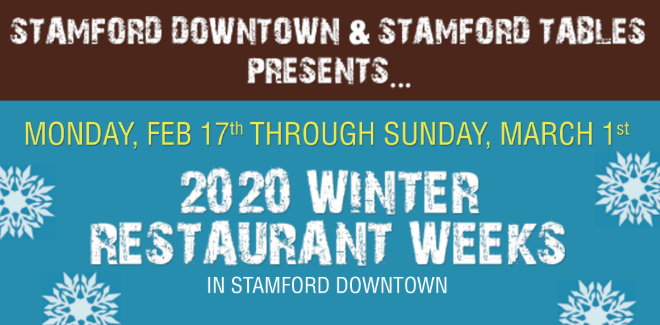 Babysitting is available for Winter Restaurant Weeks patrons with children 5 to 15 years old. Call (203) 357-7000 for more details.
All Winter Restaurant Week menu items are subject to change at participating restaurants' discretion.
PARTICIPATING RESTAURANTS
—Acuario Restaurant – 78 W. Park Place – (203) 998-7722
—Bedford Hall Craft Kitchen – 135 Bedford Street – (203) 973-7888
—Cask Republic – 191 Summer Street – (203) 348-2275
—Cilantro Restaurant – 60 Atlantic Street – (203) 914-1666
—FIN II – 219 Main Street – (203) 359-6688
—Kouzina Greek Taverna & Bar – 223 Main Street – (203) 588-0110
—Quattro Pazzi – 269 Bedford Street – (203) 324-7000
—Villa Italia – 26 Mill River Street – (203) 348-7742
—Bar Rosso – 30 Spring Street – (203) 388-8640
—Blackstones Stamford – 101 Broad Street – (203) 595-5415
—The Capital Grille – 230 Tresser Blvd. – (203) 967-0000 (Lunch at $22.20 and not offered on Saturdays)
—Capriccio Cafe – 189 Bedford Street – (203) 356-9819
—Columbus Park Trattoria  – 205 Main Street – (203) 967-9191
—FISH Restaurant + Bar – 245 Bedford Street – (203) 724-9300
—Flinders Lane Kitchen & Bar– 184 Summer Street – (203) 323-3137
—Hudson Social – 128 Bedford Street – (203) 883-8600
—Kashi Sushi Lounge – 131 Summer Street – (203) 890-9995