The Darien Police Department is asking the town government to accept money for equipment on a police boat, is getting training equipment for simulated confrontations with criminals, and is asking for a system that allows anonymous texted tips.
They've got something for you, too: A new town police website, paid for with money from false burglar alarm fines, which (as of Tuesday) police were expecting to go online Friday, Dec. 18.
Each of these items, which all involve relatively new technology, were discussed at a recent Police Commission meeting.
Equipment for police boat
The Darien Foundation for Technology and Community has offered to give up to $65,000 to the town to buy equipment that will help outfit a new Police Department boat to be used by the marine unit.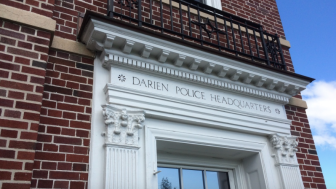 The Board of Selectman on Monday voted unanimously to accept the gift, and selectmen said they were grateful to the foundation, although First Selectman Jayme Stevenson, one of those who expressed gratitude for the gift, pointed out that equipment expenditures are generally the responsibility of the town and its taxpayers.
Gifts of $10,000 or more to Darien town government always needs the approval of the Representative Town Meeting, which is expected to vote on it early next year.
"They [the foundation] actually gave us a little more than we asked for, in case we ran into problems [cost overruns] along the way," Police Chief Duane Lovello told the Police Commission on Tuesday. The commission also unanimously voted to accept the gift.
Training system
The commission approved spending up to $8,500 for Simunition brand training equipment to go along with plastic Simunition bullets the department bought last year.
The department already uses a "Prism" training video system in the firing range at Police Headquarters, Lt. John Lawlor said. That system helps train officers in knowing when to pull out a gun and fire it or refrain from firing it.
The Simunition system includes protective gear and a course a police officer can take to train others. Police would use the gear and plastic bullets in exercises held at empty buildings, sometimes firing at other officers playing the role of criminals or anyone else who was dangerous and armed. Scenarios could even include terrorists. Police would use their own guns with the plastic bullets during these exercises.
"It is probably the most important training we could do with what's going on nowadays," Lawlor said. "It will show our weaknesses and we'd be able to improve." The entire department would be trained, he said.
New software for more types of anonymous tips
Someone who wants to tip off police to a crime or a problem and do it anonymously will have an easier time of it after the Police Department buys a $2,398 Tip Line software program approved by the Police Commission from the false alarm fund (which had about $49,000 in it before expenditures were approved on Tuesday).
The software will not only allow for anonymous texted tips to the department, but some versions of it would allow police to text back and forth with the tipster while keeping that person anonymous, Capt. Don Anderson told the commission. That may be useful especially with narcotics investigations, which have been on the rise, he said.
Tips with the new software could be made with a variety of technology, he said — texting by phone, email or phone calls. "It pretty much encompasses everything."
Website
A revamped Police Department website, paid for with money from the false alarm fund, was expected to be launched sometime on Friday, Dec. 18, Lovello said.
The new website will have a lot more information for the public and be much more user-friendly, he said.
The revamping was financed with more than $11,500 from the false alarm account in July with the approval of the Police Commission. The website has taken longer to build than originally expected. In May, the commission was told that the website was expected to be up and running in two months.
"I think you're going to be very pleased with what you see," Lovello told the commission.
Police Sgts. Jeremiah Marron and T.J. Whyte have been building the new website.
Here's the Darien TV79 video of the Dec. 15 Police Commission meeting:

Darien Police Commission 12-15-15 from Darien TV79 on Vimeo.