At Darien Library on Monday night, you can both see the movie about Gertrude Bell, a British spy, explorer and political powerhouse, and then talk about the movie with the executive director.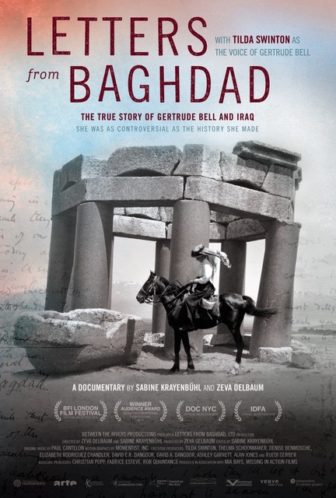 The event, which is free, starts at 7 p.m., this Monday, June 11.
Letters from Baghdad is the story of a true original – Gertrude Bell – the most powerful woman in the British Empire in her day.
— an announcement from the Darien Community Association and Darien Library
Voiced and executive produced by Academy award winning actor Tilda Swinton, the documentary tells the dramatic story of Bell. She traveled widely in Arabia before being recruited by British military intelligence to help draw the borders and establish the modern state of Iraq after World War I.
Using never-seen-before footage of the region, the film chronicles her extraordinary journey into both the uncharted Arabian desert and the inner sanctum of British colonial power.
With unique access to documents from the Iraq National Library and Archive and Gertrude Bell's own 1,600 letters, the story is told entirely in the words of the players of the day, excerpted verbatim from intimate letters, private diaries and secret communiqués. The film is a unique look at both a remarkable woman and the tangled history of Iraq.
The 90 minute movie will be followed by a Q&A with its executive director, Elizabeth Chandler.  This event is co-sponsored by Darien Community Association and Darien Library.
Elizabeth Chandler came to filmmaking after 25 years as an investment banker providing advice to sovereigns, cultural institutions and corporations throughout the world.
Upon learning of Gertrude Bell's fascinating and influential life from Janet Wallach's biography Desert Queen, she felt compelled to bring Bell's story to a wider audience via the big screen.
Through the process of researching and writing a screenplay for a feature film about Bell, she met directors Zeva Oelbaum and Sabine Krayenbühl and decided to join them to make a documentary about this extraordinary woman.