Darien Public Schools has scheduled these presentations throughout the school year for elementary school parents to learn about how their children are being taught reading, writing and mathematics and how they as parents can help their kids can do better.
Here's the district's announcement (the list of workshops is attached in the image gallery, or you can see the entire announcement here on the district website):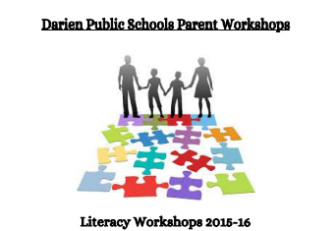 Would you like to learn more about what your child is working on in school? Would you like tips for talking to your child about her books? Did you ever wonder what the math practices are?
The District Curriculum Leaders and elementary [school] teachers will answer these questions, and many more, during a series of literacy and mathematics focused parent workshops over the course of the school year.
Descriptions of the workshops are attached and the dates will show up on your home school and district based calendars. In addition, if you are unable to attend, handouts and video will be posted on the district website in the Parent Resources Section.