The Town of Darien's fireworks display returns Saturday, July 2 with a rain date of Sunday, July 3 at the Darien High School. Parking passes will be on sale at Town Hall from June 15 through July 1 (8:30 a.m. to 4 p.m.) for $30.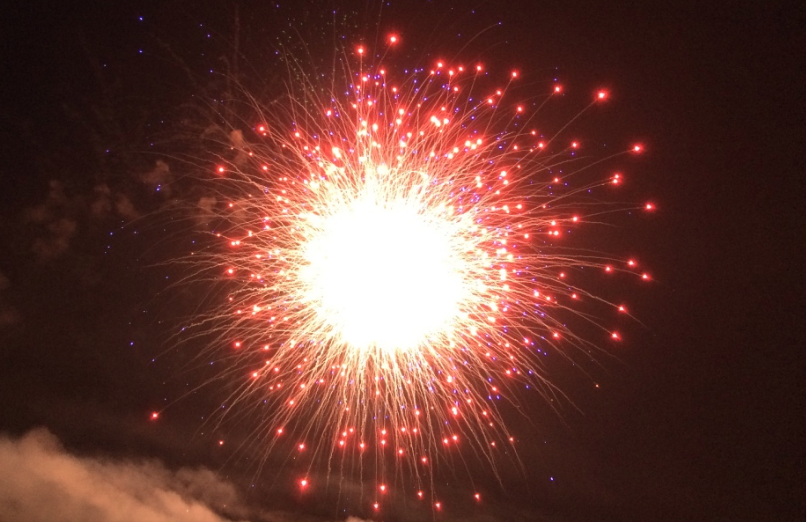 Pedestrians are free. We are excited to welcome back our local food vendors and the Darien Community Band. For the first time, we will also have a sensory-friendly location for viewers.
We would like to thank the Town of Darien, Darien Chamber of Commerce, Darien Sport Shop, PG Properties, Baywater Properties, Rings End, Maguire Cheswick Tuttle, Halstead Properties, First County Bank, Nielsen's, Dan Anderson/Merrill Lynch, Rand Insurance, Orchard Tree Care, and Dolcetti Inc. for their continued generous sponsorship.
More updates to follow. In the meantime, please direct any questions to Rachel Hennemuth (203-912-8122), Susan Marks (203-219-7933) and/or Stacey Tié (508-641-2054).
__________
— the announcement above is from the Darien fireworks committee. What follows below is from Darienite.com.
__________
Editor's Note: John Adams Would Have Approved
July 2 is when Darien organizers set for fireworks. Days surrounding July 4 are often chosen for fireworks, perhaps because the companies that conduct them have only so many places they can be.
But July 2 isn't entirely inappropriate, either. John Adams didn't think so. He thought that day would be Independence Day — the day the Second Continental Congress actually voted to separate from Britain.
Here's what he said in a letter to his wife, Abigail, dated July 3, 1776 (full letter and images of the letter here, on the Massachusetts Historical Society website):
The Second Day of July 1776, will be the most memorable Epocha, in the History of America.
I am apt to believe that it will be celebrated, by succeeding Generations, as the great anniversary Festival. It ought to be commemorated, as the Day of Deliverance by solemn Acts of Devotion to God Almighty. It ought to be solemnized with Pomp and Parade, with Shews, Games, Sports, Guns, Bells, Bonfires and Illuminations from one End of this Continent to the other from this Time forward forever more.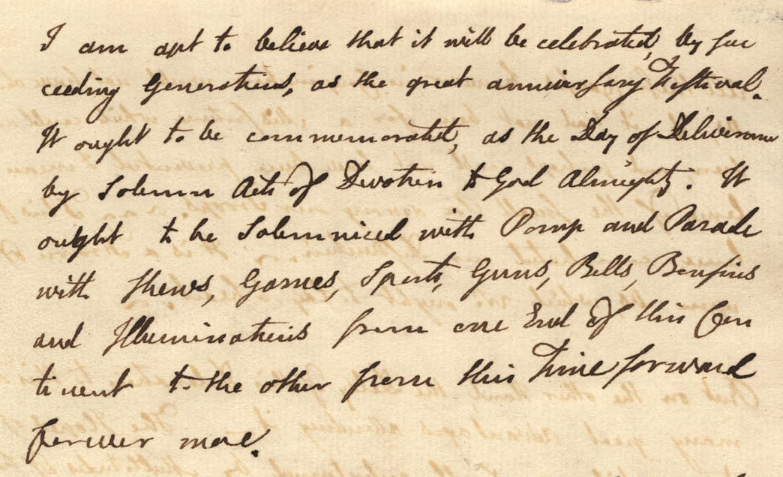 Adams, also recognized that the struggle wouldn't be easy, and might fail, although he was, ultimately, hopeful. His next words in the letter were:
You will think me transported with Enthusiasm but I am not. — I am well aware of the Toil and Blood and Treasure, that it will cost Us to maintain this Declaration, and support and defend these States. — Yet through all the Gloom I can see the Rays of ravishing Light and Glory. I can see that the End is more than worth all the Means. And that Posterity will tryumph in that Days Transaction, even altho We should rue it, which I trust in God We shall not.
Here's a Washington Post article from 2012 on the subject of the dating of America's birth.