Darien residents are welcome to drop off items at Norwalk's 2019 Household Hazardous Waste Day on Saturday, Aug. 24, 2019.
You've got the rest of this weekend and next week to gather it up and get ready to get it out of your home.
— this article is adapted from information on Norwalk's city government website.
You can drop the stuff off from 8 a.m. to 2 p.m. (rain or shine) at Norwalk High School: 23 Calvin Murphy Dr. (County St.), Norwalk.
The event is free.
Please have a driver's license or vehicle registration available to prove you're from Darien.
Residents from several communities from around Darien and Norwalk are able to drop off items at Norwalk's event or at the events held in these other nearby towns, by agreement: Darien, Greenwich, Stamford, New Canaan, Westport, Weston and Wilton.
This event is open to residents ONLY — no commercial or  business disposal will be accepted.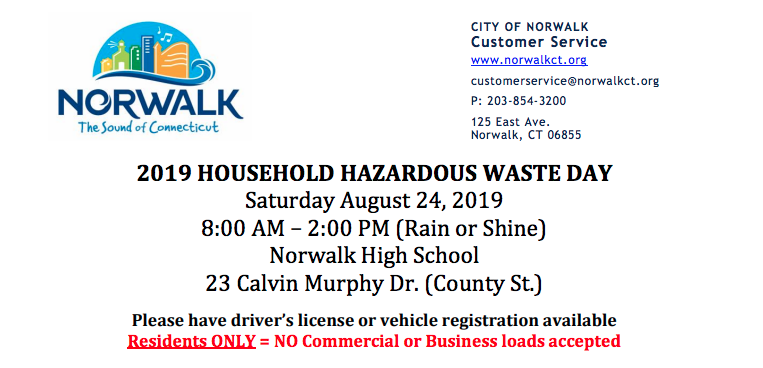 For quantities in excess of 40 pounds or 30 gallons or for other questions regarding the HHW collection, please call Customer Service at 203-854-3200.
Please do NOT mix chemicals! How To Transport HHW Materials Safely: Leave materials in original labeled containers. Tighten caps & lids. Pack containers in sturdy upright boxes and pad with newspapers. Sort & pack separately: paint, pesticides, household cleaners, etc. Pack your car and drive directly to the HHW event.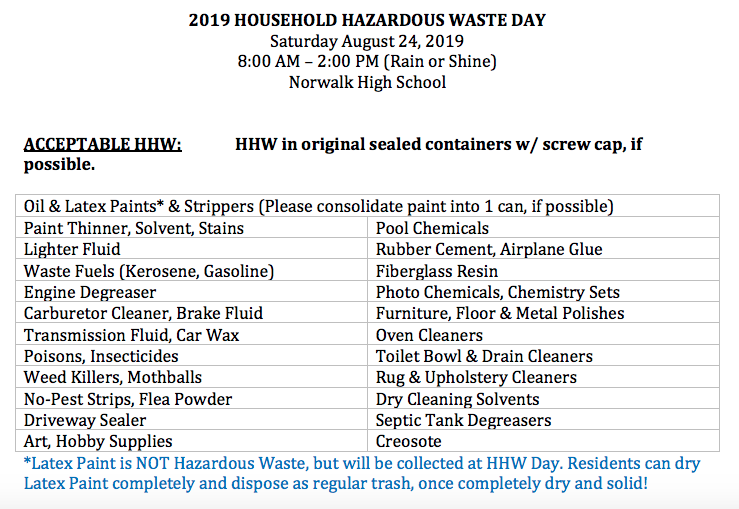 Here are this year's three other household hazardous waste drop-off days available to Darien residents: