Along with Everwell, Barrett Bookstore is thrilled to welcome Jen Gotch! Barrett Bookstore Marketing Manager Page Berger will sit down virtually with Gotch for a free-flowing discussion about her journey with mental health, her writing + podcast and ever-unfolding life.
The event takes place from 7 to 8 p.m., Wednesday, April 29.
— Information in this article is from a Barrett Bookstore announcement and newsletter.
Please note: There's no fee for this event but you are welcome to show your support for Barrett by purchasing a book from our website (click on the book jacket image to be directed to the site).
In some cases, we've been able to secure signed copies of the books. If you're interested in joining the event, make sure to click through the below links in advance of the event to register and receive the event link.
With humor and candor, ban.do founder Jen Gotch shares the empowering story of her unlikely path to becoming the creator and CCO of a multimillion-dollar brand in her newly released book, The Upside of Being Down.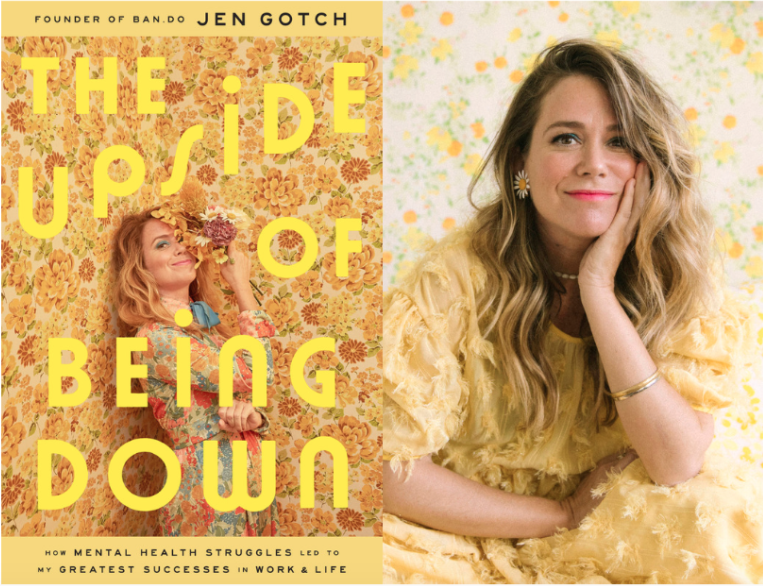 From her childhood in Florida where her early struggles with bipolar disorder, generalized anxiety, and ADD were misdiagnosed, to her winding career path as a waitress, photographer, food stylist, and finally, accidental entrepreneur, Jen's deeply moving memoir illuminates how embracing her flaws and understanding the influence of mental illness on her creativity actually led to her greatest successes in business and life.
Signed copies of The Upside of Being Down are available at Barrett Bookstore and can be delivered locally (Darien + Rowayton) or placed outside for back-door pickup.