Independent Bookstore Day marks its third year of celebrating independent bookstores nationwide on Saturday, April 29, with literary parties around the country. Barrett Bookstore will join the fun with: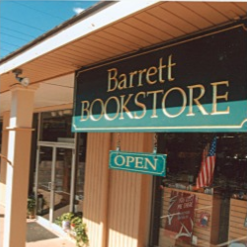 a story time at 11 a.m.
a raffle of original gifts designed especially for this event
refreshments
games
Join over 490 independent bookstores in 48 states to salute authors, booksellers, and book lovers everywhere.
"It is a privilege to be a part of this amazing network of authors, readers, publishers and booksellers, who care passionately about books," said Sheila Daley, owner of the store. "And of course we depend on our loyal customers to keep this enterprise going. We hope they will stop by!"
More About Independent Bookstore Day
From the Independent Bookstore Day website:
What is Independent Bookstore Day?
Independent Bookstore Day is a one-day national party that takes place at indie bookstores across the country on the last Saturday in April.  Every store is unique and independent, and every party is different.
But in addition to authors, live music, cupcakes, scavenger hunts, kids events, art tables, readings, barbecues, contests, and other fun stuff, there are exclusive books and literary items that you can only get on that day. Not before. Not after. Not online.
Why are we celebrating independent bookstores?
Independent bookstores are not just stores, they're community centers and local anchors run by passionate readers. They are entire universes of ideas that contain the possibility of real serendipity. They are lively performance spaces and quiet places where aimless perusal is a day well spent.
In a world of tweets and algorithms and pageless digital downloads, bookstores are not a dying anachronism.  They are living, breathing organisms that continue to grow and expand.
In fact, there are more of them this year than there were last year. And they are at your service.
Editor's note: This article originally was published April 23. The time stamp was changed to move the article link back to the home page.