This Memorial Day, Stepping Stones Museum for Children in Norwalk kicks off their summer of free admission for active duty military personnel and their families as a proud participant in the Blue Star Museums program. And they've extended the program year-round.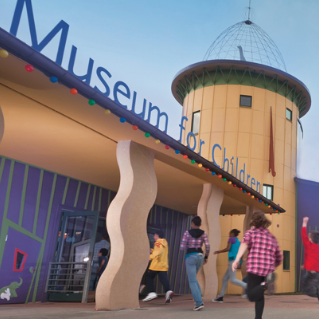 Since 2012 when they joined the nationwide program, Stepping Stones has not only offered free admission from Memorial Day through Labor Day, thanks to tremendous local support they extend the offer all year long.
— an announcement from the Stepping Stones Museum for Children
"Active-duty military families sacrifice so much in the name of protecting us and our way of life." explained Rhonda Kiest, CEO and President of Stepping Stones Museum.
"We jumped at the chance to participate in this tremendous program as a way to give back to these deserving families. From our first days of participation in the Blue Star Museums program, we had such an incredible, immediate response from our local community that we knew we needed to offer the program's benefits year-round. To date, more than 8,000 children and their families have received free admission to the museum through the program."
Open on Memorial Day

Kiest invites all families to come to the museum, which will be open on Memorial Day, Monday, May 28 as its summer hours begin, to make their artistic contribution to our collaborative wall of remembrance.
The project will incorporate poppies made of mixed-media materials to add to our special wall that honors the ultimate sacrifice made by some of our servicemen and servicewomen.  Throughout the holiday weekend, attendees can learn more about why the poppy is a poignant symbol for this holiday while adding to the art exhibit.
Stepping Stones participation in the Blue Star Museum program is a component of its Open Arms accessibility initiative.  Through Open Arms, the museum has provided thousands of children, caregivers and teachers the opportunity to enjoy the museum regardless of financial, language or special-needs barriers.
The program offers monthly Get Into It! FREE evenings, parent workshops, free traveling exhibits for schools and numerous other educational experiences to inspire lifelong learning.
Other Blue Star Museums in the Region

There are at least 58 museums and sites in Connecticut in the Blue Star Museums program for military families, according to the Blue Star Museums website.
In this area, they only include the Stamford Museum and Nature Center, the Greenwich Historical Society and the Bruce Museum in Greenwich.
Elsewhere in the state, they include the Yale University Art Gallery and the Yale Center for British Art, the New Britain Youth Museum, the Mark Twain House and Harriet Beecher Stowe Center
In New York City and Westchester County, they include the Hudson River Museum in Yonkers, the New York Botanical Gardens in the Bronx, and in Manhattan the American Museum of Natural History, the Metropolitan Museum of Art and the Guggenheim and Whitney museums.
The Blue Star Museums program provides families an opportunity to enjoy the nation's cultural heritage and learn more about their community, especially after a military move.  The Blue Star Museums program is a collaboration of the National Endowment for the Arts, Blue Star Families, the Department of Defense and more than 2,000 museums across America.
This year's Blue Star Museums represent not just fine arts museums, but also science museums, history museums, nature centers, and dozens of children's museums throughout the country.
Blue Star Museums is a collaboration among the National Endowment for the Arts, Blue Star Families, the Department of Defense, and more than 2,000 museums across America. The program runs from Memorial Day, May 28, 2018 through Labor Day, September 3, 2018.
The free admission program is available for those currently serving in the United States Military – Army, Navy, Air Force, Marine Corps, Coast Guard as well as Active Duty and Reservists, National Guardsmen (regardless of status, U.S. Public Health Commissions Corps, NOAA Commissioned Corps, and up to five (5) family members.
Qualified members must show a Geneva Convention common access card (CAC), a DD Form 1173 ID card (dependent ID), or a DD Form 1173-1 ID card for entrance into a participating Blue Star Museum.