Wednesday Matinee at Darien Library: 'All the Money in the World'
July 18 @ 1:30 pm

-

3:45 pm
This 2017 movie is a dramatization of the kidnapping of John Paul Getty III, the grandson of billionaire J. Paul Getty. It will be shown at 1:30 p.m. at Darien Library.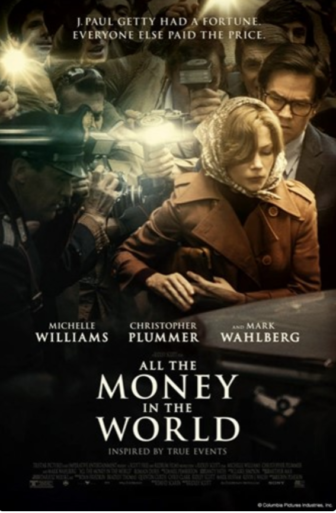 John's mother Gail begs J. Paul Getty to pay the ransom; when he refuses, she decides to rescue her son with the help of Getty's business associate.
During the production, Christopher Plummer (a former Darien resident) was brought in to replace Kevin Spacey in playing the role of the elder Getty. Spacey was accused of multiple sexual harassment allegations. Despite the late switch, Plummer's performance was widely praised by critics.
— Darien Library announcement
In addition to Plummer, the film stars Michelle Williams, Mark Wahlberg, Romain Duris, Charlie Plummer (no relation to Christopher Plummer); rated R for language, some violence, disturbing images and brief drug content; 132 minutes (until 3:45 p.m.); presented with captions for the hearing impaired.
________
Official website | Rotten Tomatoes (critics score: 77; audience: 67)| Metacritic (score: 67) | IMDb.com | Wikipedia article
See also: "What All the Money in the World Gets Right (and Wrong) About the Getty Kidnapping" (Vanity Fair, Dec. 25, 2017)
________
Related Events