Based on Peter Turner's memoir, the film, which came out late last year, follows the playful but passionate relationship between Turner (Jamie Bell) and the eccentric Academy Award winning actress Gloria Grahame (Annette Bening) in 1978 Liverpool.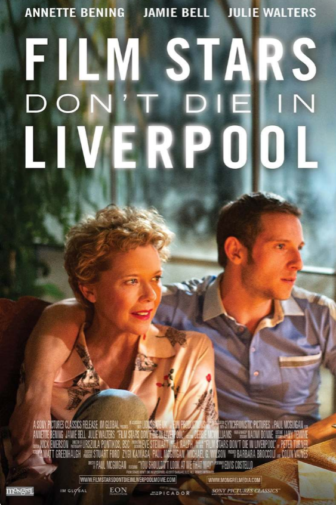 What starts as a vibrant affair between a legendary femme fatale and her young lover quickly grows into a deeper relationship, with Turner being the person Gloria turns to for comfort. Their passion and lust for life is tested to the limits by events beyond their control.
________
— Wikipedia article on Gloria Grahame
________
Along with Bening and Bell, this 2017 film features Vanessa Redgrave and Julie Walters.
It's rated R for language, some sexual content and brief nudity ; 105 minutes; presented with captions for the hearing impaired.
Official website | Rotten Tomatoes | Metacritic | IMDb | Wikipedia
— New Yorker review (by Richard Brody)
— New York Times review (by Jeanne Catsoulis)
— "Film Stars Don't Die in Liverpool: the tragic life of Hollywood sensation Gloria Grahame" (The Guardian)