The Darien YMCA invites the community to meditate, enjoy massages, shop local businesses, and bend with the Y's community of yogis for a great cause at the second annual Mind*Body*Spirit Festival.
The festival will be held from 8 a.m. to 6 p.m. on Saturday, Sept. 16 at the Darien YMCA.
A variety of the Y's yoga and meditation instructors, stand up paddle boarding coaches, rock wall guides, and trainers, will be providing special workshops throughout the day.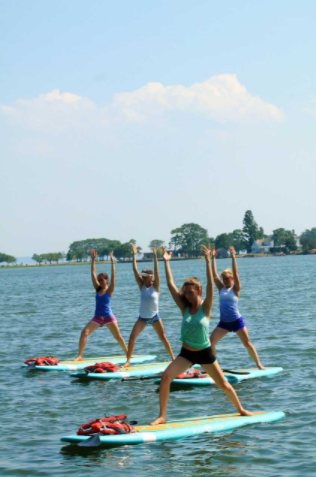 The workshops have been designed to transform the mind, body, and spirit of participants. The day will feature Master Yoga classes, massages, stand up paddle boarding classes, an exclusive shirt designed by luckyoga, outdoor meditation, breath awareness Family Yoga, rock wall climbing, and much more!
__________
— an announcement from the Darien YMCA
__________
Local businesses will set up their shops right in the front lobby of the YMCA.
Festival vendors include: luckyoga (simple & elegant apparel), Jea Jea Sport (women's activewear), India Hicks (island inspired apparel), LuLaRoe (fashionable and comfortable apparel), The Funky Hippie (hand-crafted art and jewelry), Meena Creations (hand-crafted jewelry), Beauty Counter (skin care), Arbonne (skin care), and Essential Adornment (natural bracelets).
A total of 10 percent of proceeds from the vendors and admissions fees will directly support the Darien YMCA's cancer rehabilitation program, revive. The revive program is a free, three-month progressive health and fitness program designed to transition cancer patients from treatment to returning to day-to-day living with a renewed stamina.
Come and join the community at the Mind*Body*Spirit Festival Sept. 16 at the Darien Y for a day to let go of stresses, meet new friends, laugh, breathe deeply, and spread support for a great cause.
Tickets include

an exclusively designed luckyoga t-shirt, and all day access to all classes listed below!

Prices:

In Advance (until Aug. 31): Members: $25, Non Members: $35

Sept. 1 and on/At the door: Members: $35, Non Members: $45

Classes:

Awakening Hatha Yoga, Breath Awareness by the Sound, Family Yoga, Sweat with Jess & Dale, Open SUP Rentals, Master Yoga Class, Open Rock Wall hours, Chair Massages and MORE!
For more information about the festival, and to purchase advanced tickets at a discounted rate, please visit the Darien YMCA website.