Darien police officers are wearing badges with black mourning bands and flags across the state have been lowered to half mast Thursday after two Bristol police officers were killed in a possible ambush.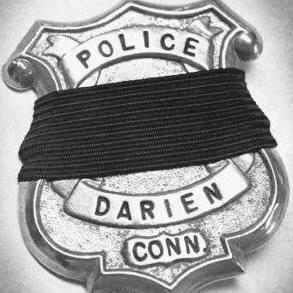 Gov. Ned Lamont ordered the flags lowered.
See also: "Two Police Officers Killed in Connecticut After a Suspicious 911 Call" (New York Times)
Darien Police Chief Donald Anderson issued this statement:
On behalf of the men and women of the Darien Police Department, we offer our heartfelt condolences to our friends and colleagues at the Bristol Police Department, the families of the fallen and injured officers and the residents of the City of Bristol.
This is a tragic and unprecedented day in the history of law enforcement in the State of Connecticut.  It is a stark reminder of the ever present danger that professional and dedicated Connecticut peace officers face each and every day in service to our communities.
All members of the Darien Police Department, per the General Orders of our agency, and in honor of the heroes who laid down their lives in the protection of others, will wear a mourning band on department badges immediately and until sunset on the day of the funerals. In addition, flags at the Darien Police Department will fly at half staff per the order of Gov. Ned Lamont until further notice."
With a heavy heart,
Donald B. Anderson
Chief of Police