For 10 years, Nicholas Roberts Fine Wines at 1053 Post Road has been supporting an "Annual Harvest Tasting" event that combines wine tasting with fund raising for water projects in poor areas of the world.
This year, the event will be held in Stamford from 5 to 8 p.m. on Saturday, Oct. 3. Tickets are priced at $35 and $75.
The money raised helps fund Turning Wine Into Water, a Darien-based nonprofit founded by Nicholas Triolo in 2005 that funds projects to get clean drinking water to impoverished people in various places.
Here's some information about it from the Web:
From an announcement on the Nicholas Roberts Fine Wines website:
This year, our 10th Annual Harvest Tasting to benefit Turning Wine Into Water will be held at The Landing in the Shippan area of Stamford.
We've teamed up with David's Soundview Catering to bring you a brand new experience. We couldn't be more excited about new the setting and the our participating suppliers.
From a post by Peter Triolo on LinkedIn (it starts with these two images):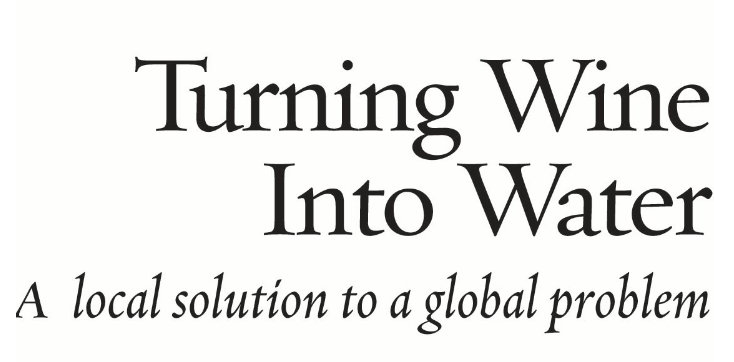 Here's the rest of Triolo's post:
The project will provide clean water and sanitation facilities to 20,000 people – the poorest of the poor. We don't need new technology. We don't need research. We simply need the will to build a well.
The project is $32,000 short. Your attendance at the 10th Annual Harvest Tasting to benefit Turning Wine Into Water will help me raise the remaining funds needed to complete the project.
The tasting will feature over 70 wines from around the world. It is being held at The Landing by David's Soundview Catering in the Shippan area of Stamford, CT. Please, register today for the event. I promise it will be the most satisfying $35 contribution you have ever made.
More from the announcement on the website:
We ask that you use Eventbrite to RSVP. It helps track attendance and makes a smoother experience at registration. We're shooting for 350 guests. Will you help us get there?
Suggested Donations
Vintage Room – $75
A collection of rare and vintage wines not often available. It's the perfect chance to add to your blossoming wine collection. Registration for the Vintage Room will give you access to the wine selections below PLUS the wine selections in the Non – Vintage room.
Querciabella Palafreno ■ Louis Roederer Brut Nature ■ Il Poggione Brunello di Montalcino Riserva ■ Trimbach Riesling Cuvée Frederic Emile ■ Heitz Cabernet Sauvignon Trailside ■ Bertani Amarone ■ O'Shaughnessy "Howell Mountain" Cabernet ■ Querciabella Palafreno ■ Louis Roederer Brut Nature ■ Il Poggione Brunello di Momtalcino Riserva ■ Trimbach Riesling Cuvée Frederic Emile ■ Heitz Cabernet Sauvignon Trailside ■ Bertani Amarone ■ O'Shaughnessy "Howell Mountain" Cabernet ■ Hebrart Special Club Brut Champagne ■ La Rioja Alta Gran Reserva 904 ■ Wind Racer Russian River Valley Pinot Noir ■ Wind Racer Russian River Valley Chardonnay ■ Chateau Vignot Saint Emilion ■ Anakota Knights Valley Cabernet Sauvignon Helena Montana Vineyard ■ Anakota Knights Valley Cabernet Sauvignon Helena Dakota Vineyard ■ Aracanum Valadorna ■ Mt. Brave Cabernet Sauvignon
Non – Vintage Room – $35
A collection of fine wines meant for everyday consumption. Find your new favorites to stock your pantry. Registration for the Non – Vintage Room will give you access to the following wines:
Boya Pinot Noir ■ Caparzo Brunello di Montalcino ■ Massolino Barolo ■ La Doga Morellino di Scansano ■ Clos des Fous Cabernet Sauvignon ■ Garcia & Schwader Facundo Old Vines Carignan ■ Viña Cobos Felino Malbec ■ Caparzo Rosso di Montalcino ■ Caparzo Chardonnay ■ Enroute Chardonnay ■ Benton Lane Pinot Noir ■ Taittinger Brut La Francaise ■ Pascal Jolivet Sancerre Rose ■ Ladoucette Sancerre Comte Lafond ■ Bortolomiol "Miol" Prosecco ■ Baron Fuenté Grande Reserve Brut ■ Les Années Folles La Voluptueuse ■ Château Beauséjour Hostens ■ Backsberg Chenin Blanc ■ Jean Marc Brocard Petit Chablis ■ Rickshaw Pinot Noir ■ Sandhi Santa Barbara County Chardonnay ■ Von Winning The Winnings Riesling ■ Marc Roy Gevrey-Chambertin Vieille Vignes ■ Martray Cotes de Brouilly 'Les Feuillees' ■ Hiedler "Loess" Gruner Veltliner ■ Soter North Valley Pinot Noir ■ Murgo Etna Rosso ■ Bisci Verdicchio di Metalica ■ NV Pierre Gimonnet 'Belles Annees' Brut ■ Star Lane Sauvignon Blanc ■ Dierberg Vineyard Santa Maria Valley Chardonnay ■ Three Saints Santa Maria Valley Pinot Noir ■ Dierberg Santa Rita Hills Pinot Noir ■ Dierberg Santa Maria Valley Pinot Noir ■ Star Lane Cabernet Sauvignon ■ Matanzas Creek Sauvignon Blanc ■ Hartford Court Russian River Chardonnay ■ Stonestreet Chardonnay ■ Hartford Court Russian River Valley Pinot Noir ■ Hartford Family Winery Russian River Zinfandel ■ Stonestreet Alexander Valley Cabernet Sauvignon ■ Arrowood Vineyards Sonoma County Cabernet Sauvignon ■ Champagne Paul Goerg Brut Reserve ■ Champagne Paul Goerg Brut Rose ■ Laurent Kraft Vouvray Sec Lauriers ■ Domaine Thomas & Fils Sancerre La Crele ■ Xavier Monnot Puligny Montrachet ■ Chateau d'Or et de Gueles Costieres de Nimes Les Cimels ■ Andre Brunel Chateauneuf du Pape Les Cailloux ■ Ehret Knights Valley Sauvignon Blanc ■ Domaine du Chalet Pouilly Fuisse ■ Familial Mayol Bodegas ■ Mogollon Mendoza Malbec ■ Bodegas Larchago Rioja Reserva ■ Paxton Wines Shiraz McLaren Vale ■ Copain Tous Ensemble Chardonnay ■ Copain Tous Ensemble Pinot Noir ■ Copain Tous Ensemble Syrah ■ Copain Les Voisins Pinot Noir ■ Copain Les Voisins Syrah
Turning Wine Into Water: 10 Years of Accomplishment
2005 -funded building of well frame to pump clean water to approx. 5000 people in a remote area of Zambia -$15,000
2006-2010 – funded building of well frames to pump clean water for the 20000 residents of Mekunga District of Zambia – $45,000
2010 – 2013 – funded building of water, hygiene and sanitation facilities (WASH) for village in southern Ethiopia and a mountainous region in northern Ethiopia -$110,000
2014-2016 -currently funding a complete water, hygiene and sanitation (WASH) program In Beliti, Ethiopia – a remote section of southern area where nearly 20,000 of the poorest of the poor have never had access to clean water – overall project cost $200,000.
2015 -raising remaining $32,000 to complete Beliti project