Darien Depot's staff, supporters and students invite you to come in from the cold and join them for an evening to celebrate and support the longest running teen center in the country, at the "Apres-Ski Fashion Fundraiser on Saturday, Feb. 9.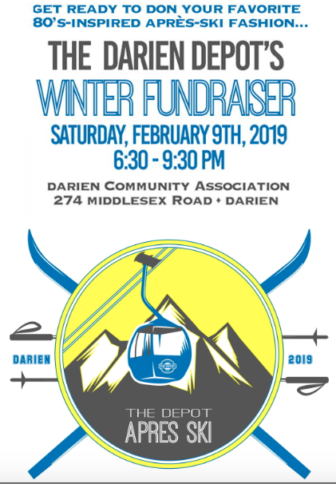 Come toast with friends for an Après Ski themed night of fun in your most festive 80's-inspired ski fashion! Our amazing auction items are soon to be showcased here!
— an announcement from Darien Depot
Can't attend the event? You can still bid on any item! Simply register, enter your information and get started! Please place a maximum bid on any item to secure and you will be notified via email and text if you have been outbid!
We look forward to celebrating with you!
The event starts at 6:30 p.m. at Darien Community Association, 274 Middlesex Road.
___________
6:30 p.m. — Say hello, grab a drink, and take a look at our amazing silent auction items!
7 p.m. — Student Governing Board to speak!
8 p.m. — Live auction begins! Don't miss out!
8:40 p.m. — Live auction ends!
8:45 p.m. — Challenge grant begins!
9 p.m. — Silent auction ends! Get your bids in!
10:30 p.m. — Good night and a big thank you to all!!
___________
About the Depot
The Depot's mission is to build resilient youth and an engaged community.
All Darien resident youth are invited to visit the Depot to create, join and participate in programs, activities, and fundraisers as well as access resources, socialize and participate in volunteer opportunities in the Darien community.
The Depot is a collaborative youth center, the first and oldest of its kind in the nation, where community needs are addressed with staff supported guidance, programming by youth, and parenting education.
An alcohol and drug-free zone monitored by caring, vetted adults, the Depot provides a safe space for youth to develop leadership, planning, and decision-making skills, interact with people of different backgrounds, access adult role models and serve as community assets.The Depot Programs.
The Depot welcomes all Darien-resident middle and high school youth from Middlesex Middle School, Darien High School, private schools and home schooled to create new programs, join programs and activities, and access resources.
Parent programs reflect undercurrents of strong public feelings and opinions that are detectable though not always openly discussed. The Depot starts conversations providing the scaffolding and education needed for parents to formulate an informed decision based on personal and family values.
As a safe place, the Depot promotes mutual respect, patience and integrity as we learn together.