Families can kick-off their Halloween festivities with the Darien Arts Center's first-ever Halloween Family Fest, a free event from 9 a.m. to 12 noon, Saturday, Oct. 26.
Children of all ages will have fun and get in the spirit of Halloween with crafts, treats, storytelling, sing-alongs and drop-in dance classes at the complementary family-oriented event, where all are encouraged to wear Halloween costumes.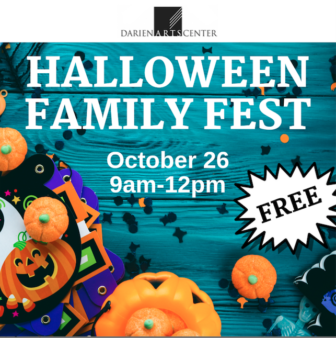 Most activities are geared for those ages 3 and up, but children of all ages are welcome.
— an announcement from Darien Arts Center
Activities include pumpkin painting and mask making from 9 a.m. through noon and Halloween sing-alongs from 11 a.m. until noon in the DAC Visual Arts Studio, located near the ball field at the rear of Town Hall.
Age-appropriate 'spooky' stories will be told from 9:15 to 10:30 a.m. and drop-in dance classes take place from 10:30 to 11:30 a.m. in the DAC Weatherstone Studio.
Refreshments include coffee, donuts and Halloween treats for all.
For more information call (203) 655-8683 or visit DarienArts.org. The DAC is located at 2 Renshaw Road, behind the Town Hall.
Editor's note, 10 p.m., Thursday, Oct. 17: The original DAC announcement said activities including pumpkin painting would take place in Weatherstone Studio. The DAC now says that set of activities will take place in the Visual Arts Studio. The change has been made in the article.