A brief ceremony was held at Darien's 9/11 Memorial Tuesday morning, the 17th anniversary of the Sept. 11, 2001 terrorist attacks at the World Trade Center and other massacre sites, resulting in the deaths of thousands, including some from Darien.
About 50 people, including numerous firefighters and police officers, attended the event at the memorial site, an engraved stone flanked by two trees (symbolizing the World Trade Center's Twin Towers). A moment of silence was observed at 8:46, the minute that the first plane struck the World Trade Center.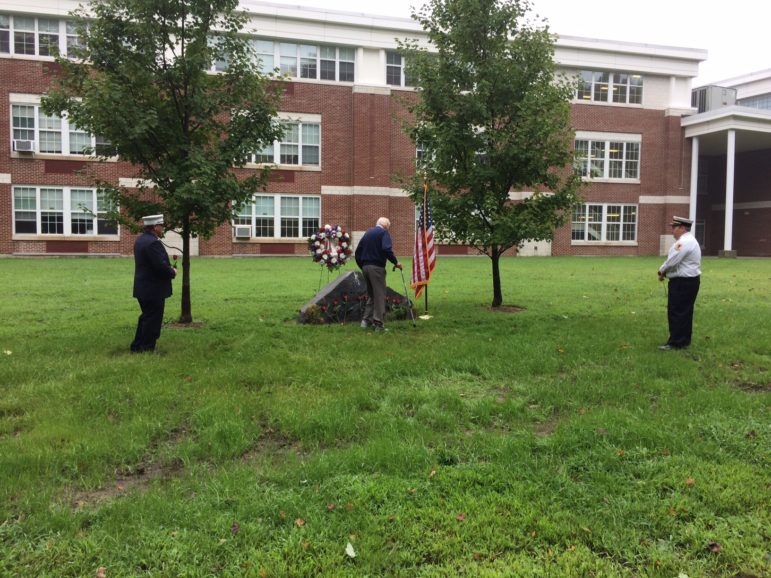 Phil Kraft, former chairman of the town Monuments and Ceremonies Commission, was the master of ceremonies. He noted that the ceremony commemorates a loss, "a loss to individual families and a loss to our community."
He noted that everyone at the ceremony would remember where he or she was on first hearing the news of the attack, and he recounted how Darien reacted to it and how a boy scout, a year after the event, decided to push to get a town memorial built.
In doing so, Kraft indicated that 9/11 wasn't just about the loss and the shock of the loss, but about resiliency in the face of it.
Kraft said his daughter was a member of Post 53 at the time. "She went down to headquarters and was on the radio. They were expecting casualties on the train. People in charge of Post 53 were waiting with ambulances at the train station."
(In fact, there were very few casualties because so many either escaped the World Trade Center by fleeing or were killed in it.)
"Everybody had something to do right away," Kraft recalled. "I know a lot of our first responders, a lot of our firefighters, got on the highway and went down to Manhattan, as far as they could. Some made it.
"In the days following, under the leadership of [then First Selectman] Bob Harrell, Darien mobilized, gathering goods, money, whatever it took, to support those who were still recoiling from the horror. […] On the 25th of September, we had a rally around the firefighters monument. We had tables, we had people […] advising us on what to do — grief counseling. We had people collecting items — collecting batteries, collecting water. Lots and lots of water.
"Every newspaper was publishing special editions with flags inside the newspapers […] so you could put that in your window. The town ran out of flags. The VFW ran out of flags. My charity, HonorBound Foundation, ran out of flags, because everybody wanted to make sure that we stood in solidarity.
"A year after a young man named Josh Doying noticed that the flag that was on his window had gotten kind of crusty and brown. […] He realized that it's going to be really easy to forget if we let things get crusty and brown, if we let things get crispy, so he immediately started his project, right behind me here." Kraft indicated the memorial he was standing in front of.
"The site for the memorial, behind Middlesex Middle School, was chosen because it was "an area that allowed for solitude and which was accessible to the public. I think this is perfect. We've got the woods behind us, we've got access on both sides. People can come at any time and contemplate."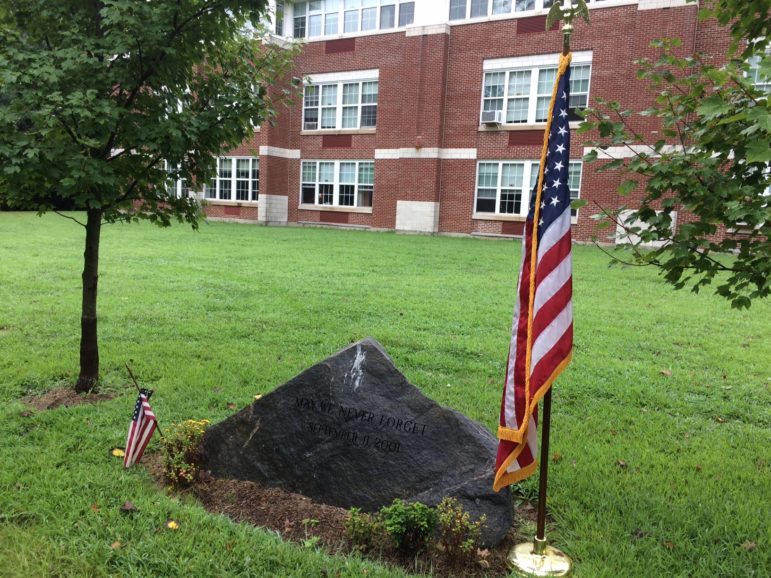 The memorial had been built by the time of the second 9/11 commemoration in 2003, Kraft said. Two trees flanking the stone have grown enough that they don't need as much coddling (although one had to be replaced, he said). "Josh was a forward-thinking young man."
First Selectman Jayme Stevenson and state Sen. Carlo Leone placed a wreath just behind the memorial, and both placed long-stemmed red roses against the stone. Roses were then placed by more than a dozen other people at the ceremony, which took less than 20 minutes from start to finish.