Christopher Buckley will be at Barrett Bookstore at  on Saturday, May 19 at 6 p.m. to speak about his new novel, "The Judge Hunter."
For many years, Buckley skewered the Washington establishment with his sharp wit, writing hilarious novels like," No Way to Treat a First Lady, "Supreme Courtship" and "Thank You for Smoking."
— an announcement from Barrett Bookstore
Now that the political situation has become so whacky that it defies satire, he looks to the past for material and discovers that time holds no immunity to skullduggery and outrageous behavior.
Buckley's first effort at historical fiction, "The Relic Master," received rave reviews. The Wall Street Journal said, "We may be in 1517, but this is still a political send-up, and it's as rascally and convivial as any that Mr. Buckley has written."
Now in "The Judge Hunter," Buckley takes the same bawdy, irreverent approach and spins a tale of adventure, comedy, political intrigue, and romance with real-life characters.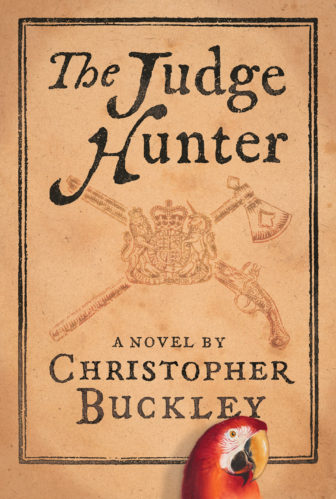 His wit is as sharp as ever as he takes readers to 17th century London and New England as we visit the bawdy court of Charles II, Boston under the strict Puritan rule, and New Amsterdam back when Manhattan was a half-wild outpost on the edge of an unmapped continent.
In a starred review, Kirkus writes,: "A witty bromance about international intrigue. …  An entertaining and nicely crafted picaresque thriller with crackling dialogue and a brace of Colonial cops as appealingly mismatched as any of Hollywood's buddy efforts."
If You're Going …
Barrett Bookstore is at 314 Heights Road in the Noroton Heights Shopping Center, Darien. Wine and refreshments will be served. There is no charge, but kindly RSVP to reserve a seat. (203) 655-2712