James Patterson, who holds the Guinness World Record for the most No. 1 New York Times bestsellers, is visiting Darien Library with his wife, Susan. The two are co-authors of a children's book, Cuddly Critters for Little Geniuses.
The visit takes place starting at 3 p.m., Wednesday, Aug. 29. You don't have to register, but you might want to show up early.
Books will be available for purchase courtesy of Barrett Bookstore, including James' most recent thrillers, The President is Missing, and Texas Ranger.
Patterson, whose books have sold more than 375 million copies worldwide, created  a new children's book imprint in 2015, JIMMY Patterson, whose mission is : "We want every kid who finishes a JIMMY Book to say, 'PLEASE GIVE ME ANOTHER BOOK.'"
His wife, Susan Solie Patterson has dreamed of writing and art directing a children's book since she received her master of fine arts degree at the University of Wisconsin-Madison, according to Darien Library's announcement for the event. The bestselling Big Words for Little Geniuses was her first book with her husband.
About the Book
Darien Library's announcement describes Cuddly Critters for Little Geniuses this way: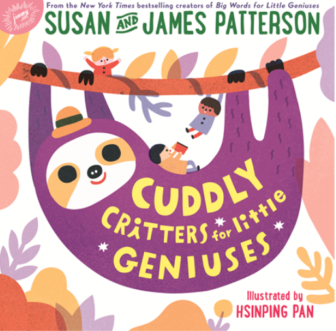 Axolotes, chinchillas, and sugar gliders–oh my!
In this charmingly illustrated follow-up to their first bestselling collaboration, Big Words for Little Geniuses, Susan and James Patterson create a collection of the world's oddest and cutest animals that only little geniuses would know!
From sloths to spoonbills and panda ants to pangolins, little geniuses will love learning about all of the unusual, adorable animals that live on this planet.
More than 50 little-known flyers, swimmers, and crawlers are included in this book, whimsically illustrated by artist Hsinping Pan.
Cuddly Critters for Little Geniuses will remind you that nature contains many wonders–and these cute and curious creatures are no exception!
More About James Patterson
Patterson, 71, has written numerous series, including Alex Cross, Michael Cross, Michael Bennett, Women's Murder Club, Maximum Ride, Daniel X, NYPD Red, Witch and Wizzard and Private.
He's written nonfiction, stand-alone thrillers and even romance novels. Also science fiction, fantasy, romance, graphic novels, young adult novels and books with Christmas themes.
Patterson's books are not known for high art, and some fellow novelists like Stephen King have said they're poorly written, although mystery novelist Lisa Scottoline, in a Washington Post book review of Kill Alex Cross, said Patterson's millions of fans "can't be wrong."
Patterson has said he tries to streamline his prose to appeal to a broad number of readers, and he avoids much in the way of scene-setting, stresses plots with a lot of action and writes short chapters, Jonathan Mahler wrote in the New York Times.
His first published novel came out in 1976. In 2010, Mahler's  New York Times Magazine article reported, "Since 2006, one out of every 17 novels bought in the United States was written by James Patterson."
A similar statistic showed up in Vanity Fair five years later: "Of all the hardcover fiction sold in the U.S. in 2013, books by Patterson accounted for one out of every 26. Altogether, he has produced more than 130 separate works […]"
His annual income for the 12 months ending in June 2014 was estimated at $90 million, by Forbes magazine.
By 2018, Forbes said, he was down to $87 million in a year: "America's highest-paid author published more than 20 books in the last year. Patterson's earnings are bound to rise next year thanks to his latest novel, The President Is Missing, which was released just outside our scoring period." The co-author is Bill Clinton.
Patterson, born in Newburgh, NY, began a career in advertising as a copywriter for J. Walter Thompson, ending up as head of the company's North American operations before becoming a full-time author.
He took his advertising savvy into the world of publishing and has been deeply involved in marketing his books, which come out at a fast clip, with new ones multiple times a year, often with co-authors.
_______________
See also: