Windows were smashed and items taken from cars parked in the lot at Holmes School at 18 Hoyt St. both on Monday and Tuesday last week (Oct. 2 and 3).
Here's how Darien police described each burglary:
Monday, Oct 2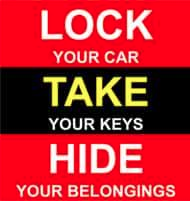 A woman who works at Holmes told police she parked her gray 2016 Honda HR in the school's parking lot at about 1 p.m. after she returned from lunch.
At 3:30 p.m., she returned to the SUV and found that the front passenger's side window was smashed and various items were taken, including a purse valued at $300, a pair of sunglasses valued at $200, a second pair of sunglasses valued at $300, credit cards and her driver's license.
Tuesday, Oct 3
Another school employee told police that on Tuesday she parked her car at about 8:20 a.m. in the parking lot. At 1 p.m., another school employee told her that the window of her gray 2016 Subaru Impreza had been smashed. That window turned out to be the front passenger-side window.
About $30 in cash was taken from the car, along with a wallet valued at $100, two credit cards, 10 checks, a dress, a purse valued at $200 and a driver's license.
In each case, Darien police detectives are investigating.