Join Susann Varano, MD, for a lighthearted look at the ups and downs of aging in a three-part series, two at Maplewood at Darien and a third at Maplewood in Norwalk.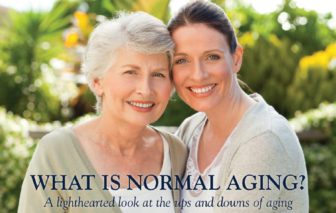 _________
— an announcement from Maplewood at Darien
_________
The three-part series covers the aging process and offers insights on managing the physical changes as we age. Dr. Varano is a brilliant, dynamic speaker with a great sense of humor.
Her lectures provide both personal and professional insights on aging. Dr. Varano is a Yale University trained physician, and double-board certified in Geriatrics and Internal Medicine.
All sessions run from 12:30 to 2 p.m., with lunch at 12:30 and the presentation starting at 1 p.m.
When and Where
April 6 — "What is Normal Aging, Part 1" —  Maplewood at Darien
April 13 — "What is Normal Aging Part 2" —  Maplewood at Darien
April 20 — "Memory Loss and Types of Dementia" —  Maplewood at Strawberry Hill
Maplewood at Darien is located at 599 Boston Post Road in Darien. Maplewood at Strawberry Hill is located at 73 Strawberry Hill Ave., East Norwalk
On April 27, Dr. Varano will be providing complimentary memory screenings all day.
More About Dr. Susann Varano
Susann Varano, M.D., Resident Care Specialist at Maplewood Senior Living, is responsible for coordinating and facilitating quality, cost-effective care while minimizing fragmentation of the healthcare delivery system for Maplewood residents.
Additionally, Dr. Varano provides complex care management to residents and coordination of care between resident, family, PCP, specialists, acute and post-acute providers, and other members of the resident care team.
Double-board certified, Dr. Varano specializes in Internal Medicine and has a sub-specialty in Geriatric Medicine. Dr. Varano completed her Internal Medicine Residency and Geriatric Fellowship at Yale University.
Dr. Varano created the Elder Horizons program at Yale New Haven Hospital. In addition to pursuing her passion of Geriatric Medicine, Dr. Varano has helped advance medicine serving as Principal Investigator on over 100 Clinical trials.
She has obtained certification as Diplomat of the American Board of Internal Medicine. Dr. Varano holds an M.D. from the Chicago Medical School, and a B.S. from Saint Joseph's College.
More About Maplewood Senior Living
Maplewood Senior Living is known for its upscale senior living residences, offering a broad range of premier services, amenities and care to its residents.
Based in Westport, Maplewood Senior Living owns and operates 15 senior living communities in Connecticut, Massachusetts and Ohio. Future developments include Princeton, N.J. and Southport.
An Upper East Side, Manhattan, NYC project falls within the company's newest brand, Inspīr. This new, international lifestyle brand was launched to offer a luxurious option for seniors looking to join a residential community in major metropolitan areas.