TEEN TALK, the Depot's newest program for teens only, is meeting tonight, Jan. 23) from 7 to 8:15 p.m.
This month's discussion will be addressing drugs and how to help friends/family that are using; the correlation between opioid use and suicide, and finding resources to help. 
On hand will be Robert DiRoma, Jr. LADC, LMSW from Life solution Center of Darien and Detectives James Palmieri and Mark Cappelli.
Teen Talk is open to all Darien High School aged students whether in public, private or home-schooled.
Teen Talk will meet one Tuesday every month at the Depot. 
February's Teen Talk will be held from 7 to 8 p.m., Jan. 26; Planned Parenthood of Southern New England will be here discussing Plan B, birth control and resources for teens.
For more information, contact janice@dariendepot.com.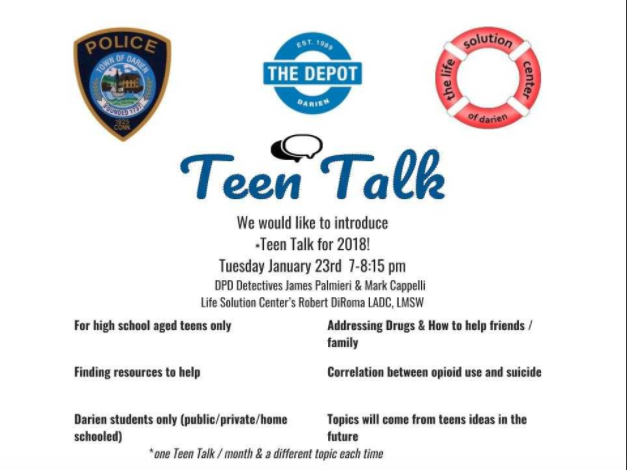 Editor's note: The date of the next Teen Talk has changed, so the article has been revised.