Goodwill of Western & Northern Connecticut is excited to announce the return of its "Bag It Up For Goodwill Donation Challenge" in 2017.
Eligible elementary schools are encouraged to participate, and help contribute to making an impact on the community and environment through reusing, repurposing or recycling items that are no longer needed.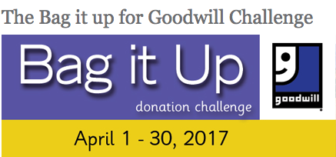 Throughout the month of April 2017, residents who make a donation at a participating Goodwill donation location will have the opportunity to claim their donation in the name of a local elementary school.
Elementary schools that fall within Goodwill's territory in Fairfield, Litchfield, Hartford, Tolland, New Haven and Windham counties are eligible to participate. The school with the most items donated during the month will receive $1,500, along with a live performance for the student body.
The winning school will be notified by May 10, 2017, and the school performance will take place before the end of the school year.  In 2016, Bloomfield's Metacomet Elementary won the challenge and received a special performance by The Voice's Braiden Sunshine.
_____________
— an announcement from Goodwill of Western and Northern Connecticut
_____________
"Our 'Bag It Up' donation challenge is a fun and unique way to share our mission and promote community while showing students the benefits of donating," said Vickie L. Volpano, President & CEO, Goodwill of Western and Northern Connecticut.
"The best part is that the proceeds from the donations will help our Connecticut neighbors with disadvantages and disabilities find and keep jobs. And with the help of our future generation, we will keep items out of landfills and make an even greater impact on our planet."
School principals and superintendents are being notified this week and are being asked to register their school to show their participation. This will provide Goodwill with the opportunity to update schools on their standing throughout the month.
In addition, school administrators are being asked to inform students, staff, families, and friends that throughout the entire month of April 2017 (Earth Month), they can donate gently-used clothing and household items at any participating Goodwill Store & Donation Station in Connecticut to give their school credit.
At the Goodwill donation stations, attendants will provide a Bag It Up donation slip where donors will record their school name, city and total number of items being donated.
These slips will be tallied, and weekly updates will be posted here on the organization's website. The school with the highest number of total items donated at the end of the promotion will win $1,500 and a live performance. Schools that finish in second and third place will also receive $500 and $250 respectively.
Schools may maximize their involvement by taking advantage of the opportunity for a member of the school community to be a "celebrity donation attendant." More information about this opportunity is available by calling Jeremy Mooser at (203) 581-5051 or emailing him at jmooser@gwct.org.
For more information on the "Bag It Up For Goodwill Donation Challenge," along with support materials to help spread the word, please visit the Goodwill Connecticut Bag It Up web pages.
For information on Goodwill's service territory, visit this page on the organization's website.
About Goodwill of Western and Northern Connecticut
Goodwill of Western and Northern Connecticut is a non-profit organization that serves  people with disabilities, economic disadvantages and other challenges to employment. Goodwill helps people achieve independence and self-sufficiency through job training and other supportive services.